Camping with kids in the fall can feel daunting. You need to prepare for cooler temperatures, especially at night. You may face wet weather and struggle to build a campfire. If this sounds like a terrible time, believe me, there can also be a lot of fun camping with kids in the fall!
From snuggling near the campfire to drinking hot chocolate under the stars, fall camping with kids can provide an experience unique from summer camping. Camping in the fall allows you to experience the changing seasons in a more immersive way. Yes, it can be chilly. But, with the right preparations, you and your family can have an incredible time camping in the fall weather. 
This post contains affiliate links. If you use these links to buy something we may earn a commission at no extra cost to you. Thanks for supporting our family!
Fall Camping Gear
Camping in the fall requires more preparation than camping in the summer. This is especially true if you are tent camping with kids in the fall. The most important thing for our family when camping in the fall is to keep our family warm.
However, this does not mean that we can afford to have a separate set of camping equipment for colder weather. We use the same equipment in the summer as we do in the fall and spring. We use what we have and make some simple adjustments to our gear to make our gear work for us.
The following tips work best for car camping. While we did backpack before kids, we have not ventured into backpacking as a family of four. The ideas I include work best for car camping because it involves packing extra gear, including some heavier items! 
 Choose a Tent that Works for Your Family
If you are car camping in the fall you will want to choose a waterproof tent. Additional features for a good fall weather tent include a larger vestibule for storing wet boots and gear and an eport for potentially plugging in an electric space heater. For our family, the Sierra Designs Alpenglow 6 hits all these points. The large vestibule gives us extra space for keeping out cold, wet gear. It is also roomy enough for our family of 4, plus our backpacks with clothing. The best part about our tent is that it's a blackout tent! We have to use a flashlight just to find things in the tent, which may sound inconvenient. But, being able to put our kids to sleep at a normal bedtime while camping has been a game changer! Sleeping in a tent now doesn't feel much different from sleeping at home. This isn't as big of a deal in the fall when it's already dark around our kids' 8:00 bedtime. It makes a huge difference in the summer when it's still light out at 10 PM in Montana! 
In the past, we have used a sporting goods store 4 person tent. Surprisingly, this tent lasted us 9 years! We spent over a hundred nights camping in that tent until its zipper finally failed.  If you don't have a big budget for a tent don't sweat it. Most likely what you have will work! If you need space to keep wet items without having the luxury of a vestibule consider creating a tarp shelter over the top of your tent. 
 Know about R-Value and Sleeping Pads
Sleeping Pads are rated using R-Value. R-Value is the rating used to determine the sleeping pad's ability to insulate you from the ground. R-Value is determined on a scale of 0-6. Know that R-Value was not independently verified until recently. If you are in the market for a new sleeping pad, look for one that has been independently tested by the ASTM rating system.
With that being said, all our sleeping pads have an R-Value of 2 or less (mine is a 1). This is not insulated and doesn't provide much insulation for fall camping. So what do we do? A couple of things. First, we have several sleeping pads thanks to the lost and found at my husband's former jobs (thanks, recreation industry!). After a certain amount of time going unclaimed, my husband has been able to take used gear for personal use. Yes, most of our sleeping pads are second-hand and free for our family. Which is also why they're lower R-Value. Since we have quite a few sleeping pads, we often double up and use an NRS strap to secure the sleeping pads together. We also use a wool blanket between our sleeping pads and sleeping bags. Wool is naturally moisture-wicking and naturally insulating.
If you are looking for ways to make your current sleeping pad warmer for fall camping consider:
Add reflectix to the floor of your tent. This is something I'm planning on doing for our next cool-weather camping trip! Reflectix is an affordable, insulating layer to keep your sleeping pad off the ground. 
Use a wool blanket between your sleeping bag and sleeping pad
Double up on sleeping pads
Sleeping Bag Options
Just like our other camping gear, we use what we have for sleeping bags. My sleeping bag is a 15-degree Marmot that is plenty cozy for fall camping. Both my kids have Kelty Mistral 20-degree sleeping bags. Despite being rated to 20 degrees, they don't feel that warm to me. Same with my husband's very old, very much in need of a replacement sleeping bag.
My daughter also has the 20-degree Morrison Outdoors Big Mo. She stayed warm and cozy during our last fall camping trip. 
I always bring a few extra fleece throw blankets just in case when camping. On this trip, I brought fleece throw blankets for the kids to snuggle in at the campfire. I also brought our enormous king-size-down blanket. My husband and son draped it over their sleeping bags and they both stayed warm, despite their inadequate sleeping bags. If you have any doubts about the warmth of your sleeping bags just bring extra blankets! This is a lot cheaper than upgrading everyone to 15-degree down sleeping bags. 
Other Camping Gear
Our fall camping setup is similar to our summer camping setup, with a few exceptions. First, we always bring a tarp and straps to make extra shelter in case of rain. We also now have an easy up. It's heavy and a bit of a pain to get into the roof box on our SUV. However, it's very easy to set up and keeps our kids dry while setting up camp in the rain. We typically set it up over the picnic table.
We also always try to have a campfire going (if allowed) during fall camping. We use an axe to make starting a fire easier.
It gets dark earlier in the fall, so we need more light than during the long days of summer. We use several different lanterns and flashlights to keep the tent and our eating area bright. 
What Clothing to Wear Fall Camping
When camping in cooler temperatures, it's important to pack plenty of layers. I pack my kids' Reima wool base layers for sleeping. I also layer these with their North Face fleece-lined mid-layers in the mornings. Pack thin mittens, hats, and puffer jackets too!
For adults, I pack our skiing base layers for pajamas. I also pack sweatpants and a puffy jacket for us. Once the morning chill wears off, I usually change into leggings, a t-shirt, and flannel. My husband opts for jeans and a flannel. Yes, we're wearing cotton while camping. Some outdoor folks consider this a faux pas. However, we're adults. We have extra layers to change into. Also, we know if we are wet and cold. 
I choose to bring a pair of easy on/off shoes for camp and a pair of hiking boots for daily adventures. I also bring an extra pair of tennis shoes for my kids, because they have a knack for getting their shoes wet and dirty. 
Tips for Staying Warm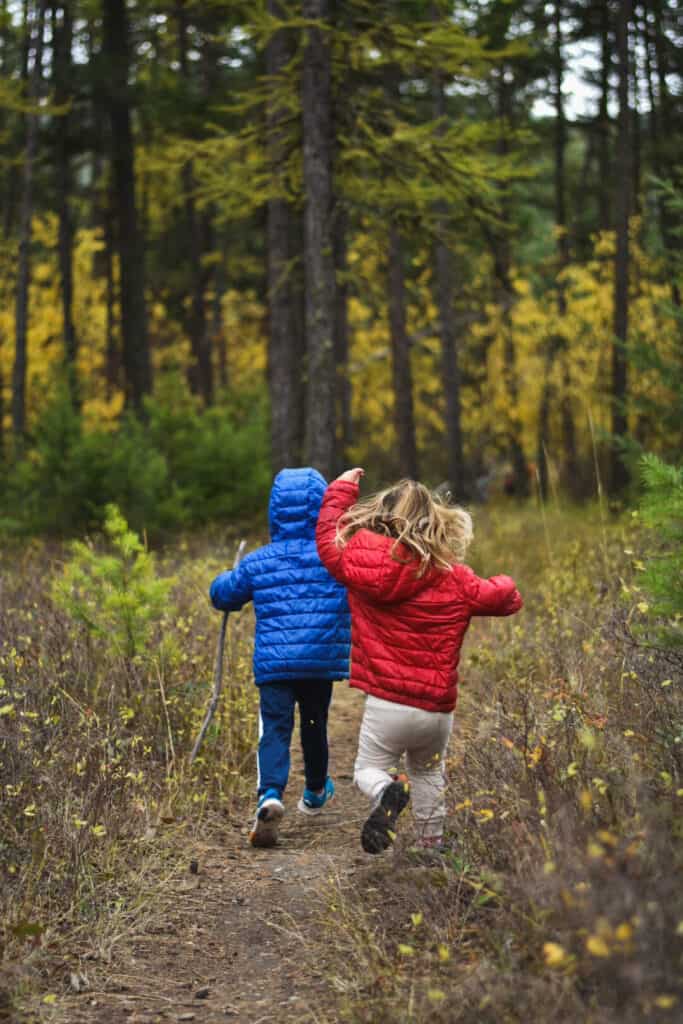 The hardest time to get my kids pumped about fall camping is during the cold mornings! I suggest you get a fire started and breakfast going while the kids stay warm and cozy in the tent. Bring small toys for them to play with. This early morning chill is a good time for kids to watch a show or play a game if you are a family who uses screen time.
Another way to stay warm while camping is to have a hot lunch back at camp. One of our favorite camping lunches is mac and cheese. Our kids love to eat it, and it warms everyone up if we're feeling cold.
In the evening we like to eat a warm meal, enjoy a campfire, and drink hot chocolate. We also bring extra fleece blankets for snuggling under while sitting around the campfire. I often read a chapter book to my kids as we all relax during an evening at camp. 
Fall Camping Activities
If we are camping in the fall we typically choose days that have nice weather for hiking, canoeing, or visiting hot springs. My favorite fall camping activity is going to hot springs. The warm water feels so nice on a cool fall day! Either choose activities that keep you warm or choose pleasant daytime weather for your fall camping trip. 
More Camping with Kids Tips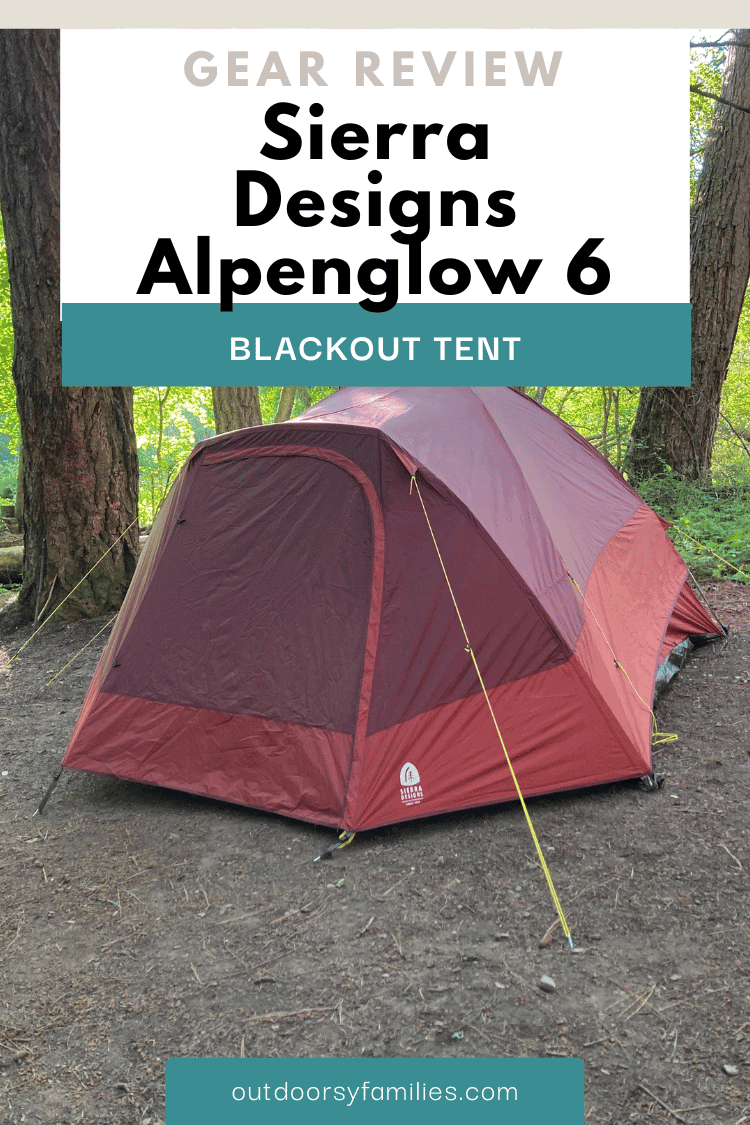 One of our biggest struggles camping with babies and little kids is keeping bedtime routines similar to those at home. This includes going to bed by 8:00 PM even while camping. We live in Northwest Montana where the sun doesn't set until nearly 10:00 PM. The sun is also rising by 5:00 AM! We needed…