Sierra Designs Alpenglow 6 Tent Gear Review 2023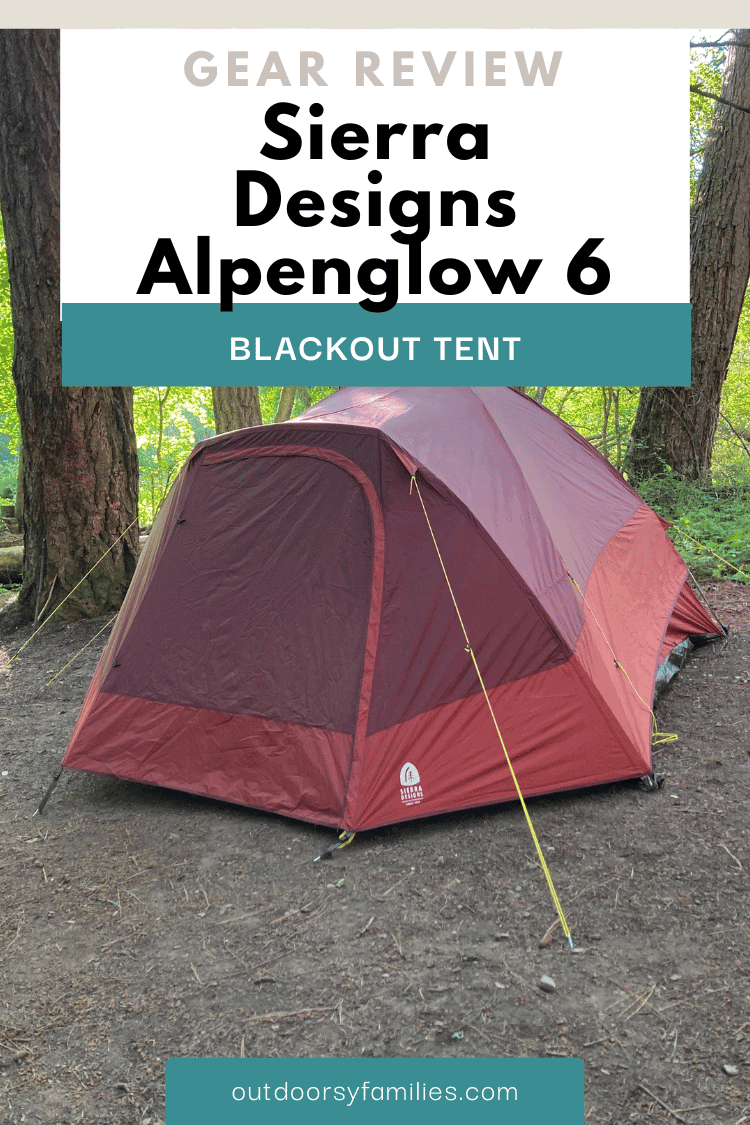 One of our biggest struggles camping with babies and little kids is keeping bedtime routines similar to those at home. This includes going to bed by 8:00 PM even while camping. We live in Northwest Montana where the sun doesn't set until nearly 10:00 PM. The sun is also rising by 5:00 AM!
We needed a tent upgrade last summer, and I began my search for a tent that I could easily assemble on my own and used blackout technology. After a lot of research, I choose the Sierra Designs Alpenglow 6. One reason why we chose Sierra Designs vs. other dark rest tents is that we've personally experienced Sierra Design's high-quality products. Our two person backpacking tent is over 15 years old – and still going strong! It doesn't get as much use as it once did, but it's still in fantastic shape after all these years. With that in mind, I knew I could trust the quality materials behind Sierra Designs. 
After several family camping trips, I can say that the Sierra Designs Alpenglow 6 person tent has improved my kids' sleep experience while camping. This has made camping more enjoyable for our whole family.
This post contains affiliate links, including links from Amazon. If you use these links to buy something, we may earn a small commission at no extra cost to you. Thanks for supporting our family!
Sierra Designs Alpenglow 6 Key Features
Dark Rest Technology blocks 98% of light
Large vestibule
Freestanding design
Waterproof and large rain fly
Fiberglass poles with freestanding design
Overview
The Sierra Designs Alpenglow 6 is a simple dome tent with a covered vestibule. This dome tent has a freestanding construction that is supported by fiberglass poles. To keep the large rain fly in place, there are several points to attach a cord. The 75D Twilight Tech on the rain fly blocks 98% of sunlight, creating a very dark interior regardless of the time of day. 
Alpenglow 6 Materials
The tent body features a super breathable mesh body comprising no-see-um mesh. With a fully mesh body, this tent is very breathable without the rain fly on. Also, the tent body does not feature the Twilight Tech blackout material. While a black color, this mesh lets in plenty of light. For access, the body of the tent is designed with a single easy entry door.
The tent floor is made of a seam-sealed, cut in PE to keep moisture out.
The tent fly is made of 75D Polyester Taffeta Twilight Tech Technology. It features 3000mm waterproofing, keeping your family dry while camping.
The Alpenglow 6 includes three fiberglass poles. Two of the poles are the same length, creating an equal length X-pole design with a large pole clip in the middle of the tent body. This makes set up a breeze, even for solo camping parents. The third pole goes into a small slat in the fly to create a doorway on the vestibule.
Sierra Designs included tent stakes, as well as storage bags for the stakes and poles. The tent, rain fly, stakes, and poles fit into a burrito bag. 
Alpenglow 6 Specs
The Alpenglow 6 measures 120" long by 120' wide. It has 100 square feet of interior space. This gives it just enough room for 6 people to sleep on six sleeping pads and sleeping bags.
For a family of four, we comfortably sleep with a queen air mattress and two sleeping pads for the kids. We have room for our backpacks with extra clothing in the tent, too. This massive interior space provides us with space for all our camping comforts.
The large vestibule adds about 18 feet of extended gear space. We use that storage area to keep shoes and some gear.
I also appreciate the interior space's storage designs. This tent features lots of pockets and a gear loft. (I like keeping our solar powered lantern there to provide some much needed light in the tent.)
At 17 lbs. 14 oz, this tent makes an ideal choice for car camping. It would be far too heavy for backpacking and even a bit heavy for walk in campsites.
The interior at its peak height is 72". This provides plenty of head space for most people. At 5'3" I have more than enough room to walk throughout the tent.
This tent also features a ventilation system on the back of the rain fly. This is great for a tent with a full vestibule. 
Tent Setup
One of the most appealing aspects of the Alpenglow 6 as a mom who camps on my own is the easy setup. The Alpenglow 6 has a simple dome design. Two long poles cross the tent and connect in the center of the tent. From there, assembling the tent into the bottom gussets is a simple process.
The fly is the most challenging part of assembling the tent on my own. Since this tent is rather tall and I am not, I have to throw the fly across the tent while trying to keep it in place. There have been several times when the rain fly fell off the tent while I tried to attach it.
Once the vestibule in attached, the exterior door needs to be assembled with the third pole. My husband and I have both struggled with threading this pole through the small sleeve on the inside of the vestibule. Once in place, the vestibule door must be staked in place to create the easy entry door. This door is not freestanding like the rest of the tent.
I can easily stake the whole tent down. Guy lines along the vestibule provide tension to keep water flowing off the tent.
Once assembled, the mesh interior keeps air moving after the sun comes up. Additional ventilation on the exterior of the tent helps with airflow, too. This provides a cool and dark environment throughout the day. 
Blackout Tent Technology
There are a growing number of new camping tents marketed to people seeking blackout technology. Unlike other brands, then Alpenglow blocks 98% of light thanks to the d twilight tech material on the large vestibule. The primary focus of this tent's design is to block light to help with sleep. Whether you're not a morning person or you are like me and looking to help kids sleep, this tent blocks out nearly all light!
The tent's interior dark technology really blocks out light throughout the day. In fact, my toddler has even continued her nap schedule while camping. It is SO dark that I need to use a headlamp to find things in the tent – even during the day. This dark rest technology was just what I was looking for to help my kids sleep better in a tent.
What families should choose Sierra Designs Alpenglow 6?
Families looking for a blackout tent that blocks sunlight will love the Sierra Designs Alpenglow 6.
This tent is also ideal for any family living farther north and experience long summer days.
While it is designed to fit 6 people, I recommend it for families of 4 or 5 who plan to store some clothes or gear in the tent. It would feel like a tight squeeze for 6 people.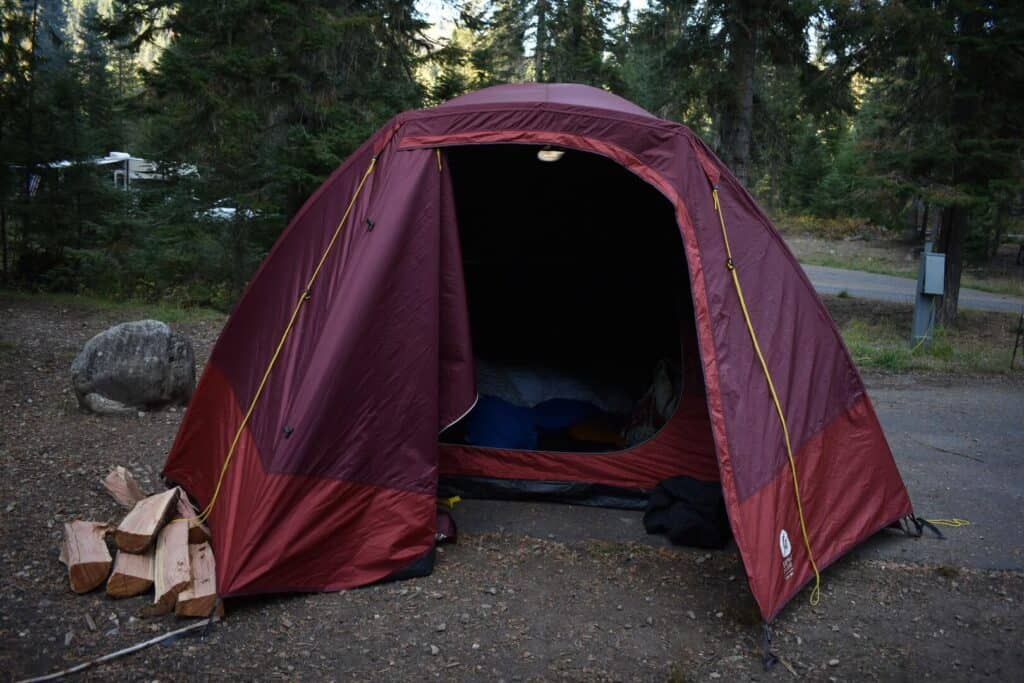 Sierra Designs Alpenglow 4
If you are looking for a smaller tent (and less weight), the Sierra Designs Alpenglow 4 may be a better option. Made with the same design and materials as the Alpenglow 6, the Alpenglow 4 features 63 square feet of floor space. 
Pros and Cons
As I've said, I love this tent. I think it's well worth the price to invest in a well-designed blackout tent. Especially if you are camping with young children who need a dark sleeping environment. However, there are pros and cons to this tent.
Pros
Truly blocks sunlight throughout the whole day
Easy to assemble
High-quality materials
Vestibule provides additional space for removing shoes or exterior gear storage
Very waterproof
Large interior provides plenty of space for families of 4-5, plus gear.
 Cons
It's so dark you will need a headlamp to find things in the tent
The sleeve on the vestibule is challenging to fit the pole through 
We can't get the tent to properly fit back in the provided burrito bag.
Sierra Designs Facts
Sierra Designs is an American outdoor gear company founded in the 1960s. They have a long history of creating quality outdoor gear.
Sierra Designs includes a limited lifetime warranty for its products. This covers the reasonable lifetime of the product.
The Alpenglow 6 is also available for free shipping through Sierra Designs website. 
Sierra Designs Alpenglow 6 Conclusion
Sierra Designs Alpenglow 6 is a great choice for families looking for a blackout tent with high-quality materials. Your kids will feel more at home while camping in this dark rest tent, helping everyone sleep tight while camping!
Other Camping Articles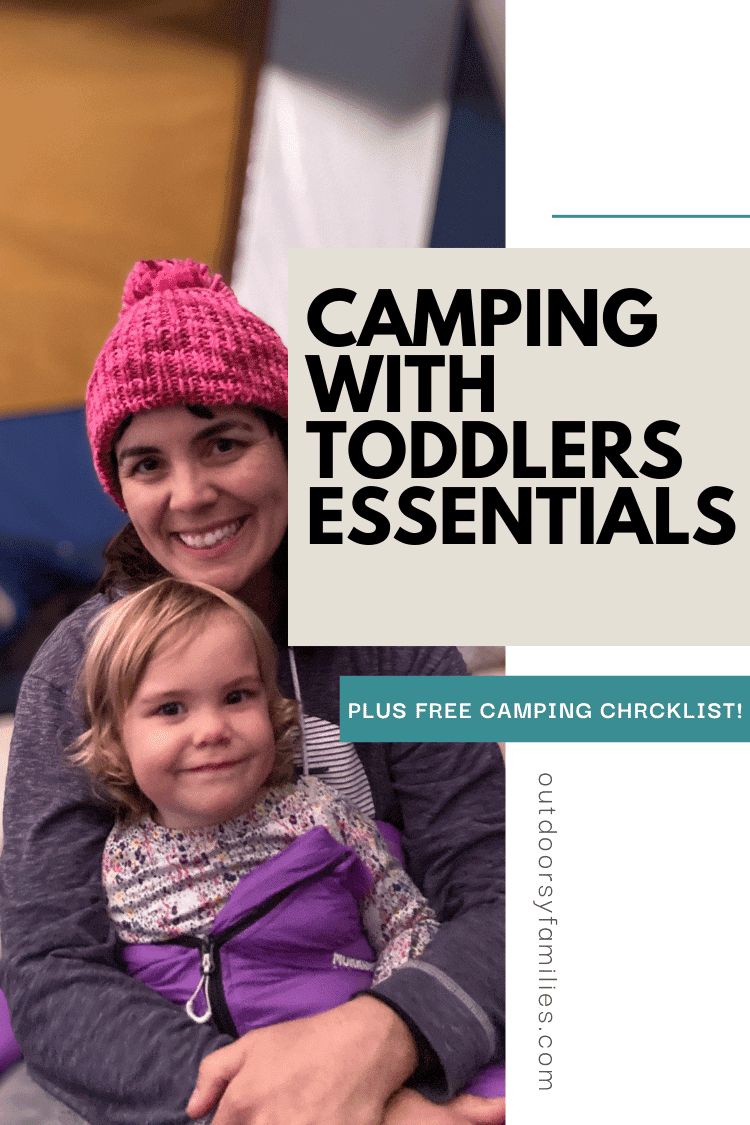 Camping with toddlers can be a magical experience. From exploring new areas through the eyes of little kids to making your child's first s'mores, camping with toddlers can be a fun and rewarding experience for the whole family. However, it's not without its struggles. Toddlers, especially young toddlers, are notorious for their need for routine….