6 Ways to Help with Sleep While Camping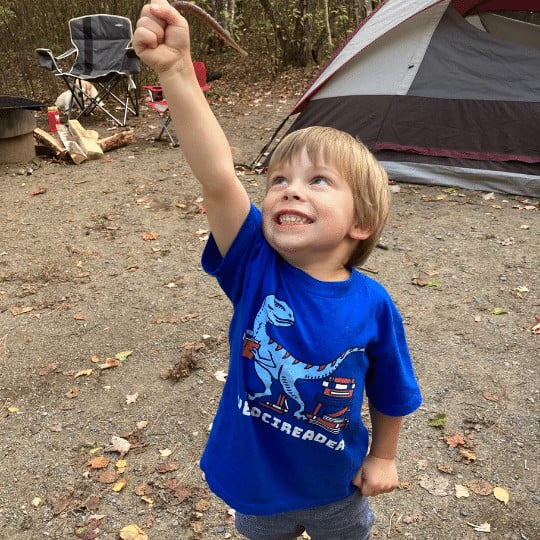 Sleeping at camp can be one of the most challenging parts of camping with kids. The new environment can often lead to long nights and frequent wake-ups. We've had our fair share of these situations while camping with our kids too. Most of our worst nights' sleep while camping happened when I tried to stick to our typical bedtime. Young kids just don't always adjust easily to new situations. On one of my first solo camping trips with my little ones, I found myself trying to keep from yelling at my kids as they were literally going nuts in the tent. My voice was sounding more and more like Darth Vader as I whispered "please lay down." My daughter's screams were becoming deafening. I was ready to pack up the tent at that moment. And it wasn't until nearly ten-thirty that things finally calmed down. So yeah, I've been there. But, I still believe the reward of going camping with your kids can outweigh the risk of lack of sleep. Things have improved since that awful trip! (Fortunately!) We have found a few basic strategies that can help with a better night's sleep for the whole family. These strategies have worked for my family, and may work for yours too! I know sleep is such an individualized experience and you know your kids best. I will say the more you camp, the easier sleeping in a tent gets!
1. Set the camping trip up for success
The key to a decent night's sleep while camping begins before you even set up camp! I've found that my arrival time and setup directly correlates to the kind of night we're going to have. Why? Because when we're rolling into camp 30 minutes before our typical dinner time, things are going to get chaotic. I like to get to camp between 1-4, depending on if there is a check-in time at a campground. The earlier the better, really. That gives us time to set up the tent and sleeping system. Hopefully, we can also go on a hike, do some fishing, or play some camp games before I need to start dinner. That scenario I shared at the beginning of this post? That was the time when we rolled into camp AT dinner time. Total. Disaster.
2. Wear them out!
One of the easiest ways to get my kids sleeping better at camp is to provide a full day of action. I like to wear my kids out in a lot of ways. We stay busy on camping trips with a few hikes. We are also into getting out on the water. The kids love swimming, fishing, and boating. We also keep them busy around camp. Whether it's helping out with dinner or playing camp games, we try to stay active at camp! I should warn you that for my kids (and most kids!) there's a fine line between being worn out and being overtired. When my kids get overtired it results in cranky kids that DON'T fall asleep easily! Sometimes naps can be difficult while camping. I usually can get my daughter napping with some snuggling in the tent. My son (who's transitioning out of naps) will take a quiet rest in a hammock and sometimes falls asleep in there. If it's too hot to sleep in the tent during the day, or if they're getting overtired I'll use movement to get them napping. During the early toddler and baby years that happens easily in the baby carrier. If that isn't going to happen I'll load up in the car for a little drive around the area. That almost always does the trick!
3. Don't stress bedtime
Once it's time for bedtime don't worry as much about your typical routine. Most likely the excitement from camping is going to make bedtime a little crazy, so just go with it! I usually do bedtime a little later than our typical time. I also do fewer books and instead tell stories. We share stories around the campfire and sing songs while my husband plays guitar. I also tell stories while my kids are falling asleep. Sometimes it takes a lot of stories to get them drifting to sleep! I have also finally embraced the fact that my kids are going to want to snuggle to sleep while we're camping. So now I get ready for bed with them. Honestly, it's not my favorite thing in the world. I miss nights around the campfire drinking a hot toddy and reading my book. But, I know that this is also a short time in my life. So I'll take all the snuggles they got.
4. Use white noise
From the unusual silence of dispersed camping to the noisy neighbors camping next door, white noise can block out too little or too much noise! We use the same white noise machine at home as we do when we travel. This adds a sense of normalcy to the tent. Our favorite white noise machine is an adorable owl . We also have the equally cute bunny. We have had ours for over four years now and it's still going strong – even after nightly use!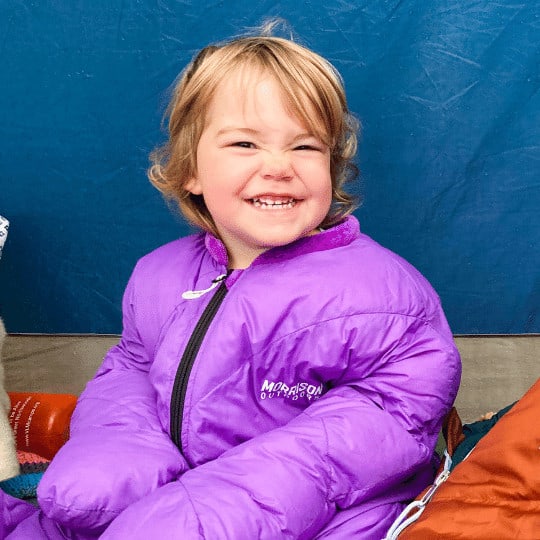 5. Make sure everyone is comfy
Nobody is going to sleep well if they're cold while camping! There are a few ways I like to approach bedding while camping. If it's summer and relatively mild outside I will pack sheets, blankets, and an air mattress. These little creature comforts make camping feel a bit more like "home" for me. If I'm taking the kids camping on my own I'll plan on co-sleeping with them. It's going to happen anyway so I just go with it from the beginning. I DID NOT co-sleep on an air mattress until my babies were older. On the air mattress, it states that these can't be used for babies under 15 months. If we're camping as a family of four then I'll pack the air mattress for Richie and me plus blankets and sheets, and the kids get Therma Rests with sleeping bags.
Now, if it's the shoulder season (spring or fall) or if it's unusually cold (like higher altitude camping) I pack sleeping pads and sleeping bags for all of us. It's easier to keep your body warmer while using a sleeping bag and sleeping pads stay warmer than the colder air in an air mattress. I also always use wool blankets as an added layer of warmth on top of the sleeping pads. We're super lucky to have scored a Hudson Bay Co. blanket for a crazy good deal at an antique store/ gas station in super rural Northwestern Montana. (Such a random score!) We love the Big Mo 20 degree sleeping bag for our daughter. Our son has the Kelty Mistral sleeping bag. I like it, he stays warm in it. But it is pretty enormous for a four-year-old!
Like I mentioned, if I'm camping with just myself and the kids I'll co-sleep. If my husband comes with us, we sleep together on the air mattress and the kids sleep near us on their sleeping pads. My daughter is a total snuggler and loves to be rocked/ held to sleep. She also can wake up fairly frequently while camping. I keep her right by my side of the bed so I can give her a reassuring pat or snuggle. Usually, she will go back to sleep pretty quickly after that.
6. You do you!
I think the most important thing to realize about camping with younger kids and babies is that sleeping will possibly be a struggle. This will especially be the case on your first few trips. Consistency and figuring out what works best for you will make all the difference in a good night's sleep while camping vs. an awful one. I've shared what works best for me, but I know that children are all unique. For example, if your kid is someone who can't be near mom or dad while sleeping you may want to consider getting a tent with a partition. This will give the sense of separate "bedrooms". If you are worried about bothering the neighbors, consider dispersed camping. The more camping trips you go on, the easier camping will become! Don't let the idea of a bad night's sleep hold you back from camping with your family.
This post contains affiliate links. If you use these links to buy something we may earn a commission. Thanks for supporting our family!
Like what you read?
Check out these similar posts and podcast episodes!