Gift Guide for Outdoorsy Families
If you're like me, you'd rather be outdoors exploring than shopping. I love good gear once I have it, but I often spend too long deciding what to buy – especially for big purchases. This gift guide for outdoorsy families takes the stress out of looking for gifts and simplifies your holiday shopping experience! I have included experience gifts, gifts for the whole family, and gifts for each person in your family. These holiday gifts will inspire your family to get outside and get ready to play!
This post contains affiliate links, including links from Amazon. If you use these links to buy something we may earn a commission at no extra cost to you. Thanks for supporting our family!
Outdoorsy Gift Experiences
National Parks Pass: Nothing says get outside and explore like a parks pass. The America the Beautiful pass is an $80 annual pass that gives you access to the National Parks, National Monuments, and Federal land. What a fantastic deal! We have used our annual passes to explore some of the most beautiful land in the US.
State Parks Pass: If you are in a region with less Federal land, consider a state parks pass as a gift. We loved our Minnesota state parks pass. We have fond memories of exploring all the unique state parks that Minnesota offers.
Ski or Snowboarding Lessons: If someone you love is considering trying to ski or you want to teach your kids to ski, make sure you get lessons with a certified ski and snowboarding instructor. You can typically purchase lessons directly from the ski school.
Rafting Trip: This gift is one that will need to wait for summer! But, a rafting trip is an awesome way to experience a new outdoor activity – and get out of your comfort zone as an outdoorsy family! Trying new things together is a bonding experience that makes lasting memories. Are you still unsure about rafting as a family? Check out this podcast episode with a dad who rafts with his 5-year-old daughters!
Outdoorsy Gifts for Outdoorsy Kids
If you are anything like me, the last thing you want to get your kids is more plastic toys that clutter up your house! Don't get me wrong, the requested "Dino Legos" will be under the tree. But, that may be the extent of it! These gifts will spark outdoor play and imagination, whether it's outdoors or indoors.
Hammock: Hammocks are the perfect place to spark imagination and play. My kids love relaxing in a hammock, but they also love to play in them. From pretending to be in a cave to pretending to be monkeys in a tree, possibilities are endless. I choose adult size hammocks for my kids because I trust that they are durable. Also, I can climb in with them. Another added bonus to the hammock is the outdoor nap! Our son loves taking an afternoon nap in his hammock. I love this style with a rain fly and mosquito net. It was essential in Minnesota!
Headlamps: How many times have your kids borrowed your headlamp? My two want to use mine all the time! Headlamps are definitely going to be a stocking stuffer this year. I'm choosing this one because it has a variety of settings at a low pricepoint.
Runways Slopes, Chutes, and Slides: This beautiful bamboo kit includes chutes and balls to create different ramps. Let your child's imagination run wild with this fun activity!
Campfire Set: Bring camping home with this soft campfire set. This is sure to spark imaginative play! My kids have a similar set (with more plastic parts…) and they love cooking s'mores and playing campfire.
Play Tent: Spark imaginative play with an indoor play tent! This also works well as a calming and quiet space.
Schleich Toys: These durable, plastic animals are one of our favorite toys for play indoors and outdoors! We bring these in wet bags outdoors to play in the dirt, sand, or water. Once we're back inside my kids "give them a bath" in the sink, and they're ready for the next adventure! I love using Schleich toys as stocking stuffers.
The Ultimate Fort Kit: This beautiful kit has everything you need to create the best forts in your house! Bonus: it has beautiful stuff sack to easily clean up after playtime.
Outdoorsy Gifts for the Whole Family
Some gifts are great for the whole family. Everyone can get in on the fun. This is even better when the fun is outdoors.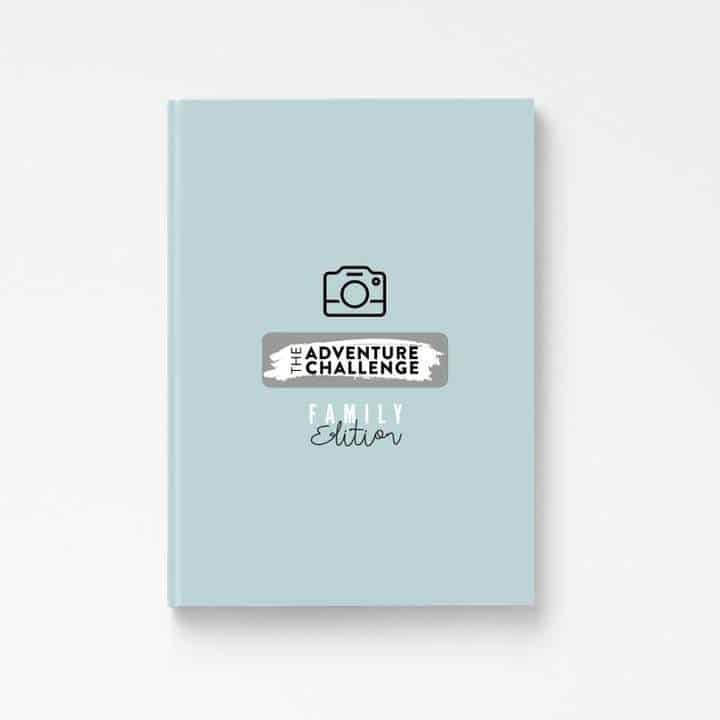 The Adventure Challenge Family Edition: This awesome book includes challenges that are indoors and outdoors. You can choose a challenge based on cost, time of day, and duration. This was a fun gift we received one year from family. Some of the activities are best for older kids, so we can't wait to use it as our kids grow older!
The Family Toboggan: We love this sled! It's durable, fits the kids and myself, and best of all, it's super fast! I also like that it's easy to pull my kids around camp with it.
National Parks Pages: A beautifully bound National Parks journal, this book lets you record all your family's National Park adventures. It would go great with the America the Beautiful pass. We are excited to fill the pages of ours!
Outdoorsy Gifts for Parents
The Glampfire Box: This subscription box shows up at your doorstep each month. It's for the woman who wants to add a bit of comfort to her camping experience. Each box includes something something consumable, something reusable, something seasonal, and a recipe! I loved the scented firestarters in our last box.
A big camping table: We love this table for camping. I got it for Richie for Father's Day, and it's seen some great use.
Rachel Pohl art: I love bringing elements of the outdoors inside. For years I swooned over Rachel Pohl's artwork until I finally got my own print for Christmas one year. It's one of my favorite pieces of art in our house!
Gift Guide for Outdoorsy Families
Giving gifts doesn't need to be complicated or stressful. I hope this list has given you gift ideas that will be wanted and useful for years to come! Let me know what you are shopping for this holiday season in the comments below.