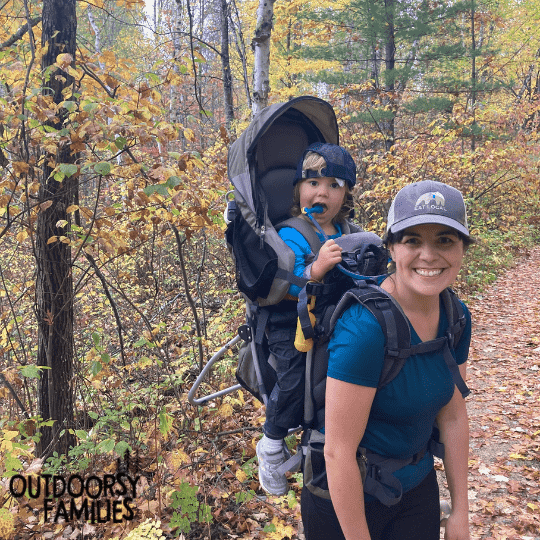 Hiking with toddlers is such a joyful experience. Young children love to explore trails and spend time outside. I have found that the more often we take our little ones out on the trail, the more positive our hiking experiences have become. However, like anything with toddlers, we have moments of big feelings and challenges on the trail. These tough moments can be made smoother with the right gear! Below is a list of our must-have toddler hiking gear items on the trail! This gear will help hiking with toddlers be the best hiking adventure yet!
This post contains affiliate links, including Amazon. If you use these links to buy something we earn a small commission. Thanks for supporting our family!
When Should Toddlers Hike on their Own?
Most young toddlers can hike short distances at a time. For a 1-2-year-old, plan on bringing a carrier. The length of the hike will determine whether you are more comfortable using a soft carrier or a backpack carrier. Typically, I prefer using a backpack carrier for hikes over a mile, as it gives me more support and allows me to carry more gear. Soft carriers are a great option for shorter hikes and younger toddlers.
Once your little hiker is an older toddler they can begin hiking further on their own. This is when you may consider giving your toddler a hiking backpack to carry. On most family hikes we will ask our young children if they want to carry their backpacks or not. Sometimes they are excited to carry it, and sometimes they just want to hike without one. We don't push a backpack because we will just end up carrying it if they are not interested in carrying their own backpack!
Our son was not interested in hiking on his own until 3. We were okay with carrying him in the backpack carrier until he was ready to hike at his own pace. (It was nice to go at an adult pace!) Our daughter was interested in hiking on her own at 2. I encouraged her to hike on her own because I was working through a neck and shoulder injury, and was unable to carry her on our hikes. As a result, she's learned to hike independently at an early age. This has meant that I typically choose short hikes for our family (less than 2 miles) to ensure she can hike it mostly on her own. I do use the Trail Magik for short spurts when she gets worn out though! It's a good idea to follow your toddler's lead on how much they want to hike. This will prevent any toddler meltdowns on the hiking trail
Gear for Toddlers
Toddlers don't need a lot of gear to hike. Usually, our son's favorite thing to carry on the trail is a stick. However, we find that if our little kids are carrying a backpack they are more motivated to hike. They seem to be taking more ownership of the experience. Some basic gear that all toddlers can carry include:
Weather-appropriate clothing
Hiking shoes or hiking boots
Sun protection
Water bottle or hydration system
Small backpack
Rain gear
Snack
Hiking toy (optional)
Weather-appropriate Clothing
Weather will be the biggest concern in what type of clothing kids should be wearing for a hike. If you are planning on hiking in all seasons, be sure to plan in advance to keep your toddler safe from the outdoor elements.
Warm Weather Hikes 
For hot, sunny days we prefer short sleeve shirts, shorts, and hats. These kinds of hikes require sun protection to keep young children's skin safe. We use sunscreen to protect our kids' skin. However, there are times that we opt for a light long sleeve sun shirt.
Our kids prefer wearing caps over sun hats, so we've found that Reima's sun hats make a great middle-ground for them! These wide-brim hats with plenty of neck and shoulder coverage keep the sun off our toddler's necks and shoulders. Use the code OUTDOORSY15 for 15% off your Reima order!
 We also use Sunday Afternoons trucker hats. These colorful hats come in cute designs that make our kids excited to wear their hats and keep them on! 
Occasionally I can convince my kids to wear sunglasses. If you can keep sunglasses on a toddler go for it!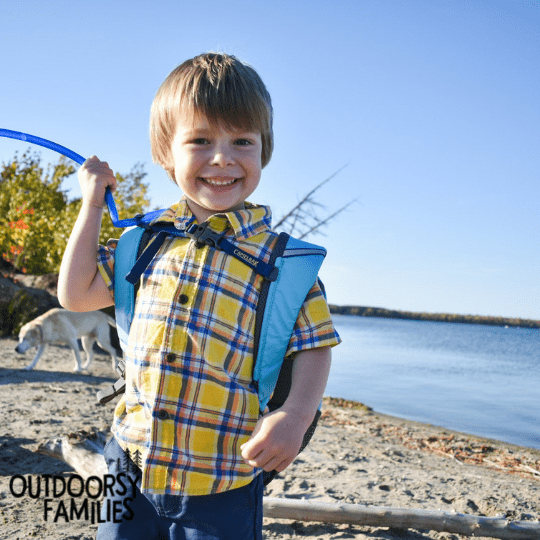 Cool Weather Hikes
On cold fall hikes or during winter hikes, our kids typically wear base layers, puffy jackets, and wool socks for the hike. 
We love Primary's Puffer jackets. They are such a great deal for such a high-quality product. The hoods keep them warm and comfortable in cool weather, and they fit well in their backpacks. You can get 20% off with the code AFF20PCT! (Although they are often on an even better sale!) 
For base layers, we opt for Reima's wool/silk blend. These machine-washable base layers are super soft, yet still, have the wicking advantages of wool without the itch. Use the code OUTDOORSY15 for 15% off your Reima order!
Rainy Weather Hikes
Probably the most challenging weather for hiking with my kids is rainy weather. My young children do not enjoy hiking in this weather – however, we've found ways to make hiking in the rain more fun! Being prepared for cool, rainy weather is the key to having fun while hiking in the rain.
We use Reima's rain gear and find it keeps our kids warm and dry while hiking in the rain. Using Reima's rain gear, I have been able to camp and hike with my kids in Glacier during cool, wet weather and along the Oregon Coast. Surprisingly, my kids were happy and stayed warm and dry. They also wore base layers under their rain gear to keep themselves well-insulated as they played in rainy weather. 
We also use Reima's rain mittens. We love these mittens for cool, rainy Spring days and slushy snow days. These mittens keep my kid's hands dry in the wettest of conditions.
Use the code OUTDOORSY15 for 15% off your Reima order!
Water Bottles
One essential young children will need on a hike is a water bottle. Any water bottle will work, but I tend to choose a smaller water bottle for my kids so it's easier to carry. I choose to pack an extra water bottle in my backpack in case I need to refill theirs. 
Hiking Shoes
Probably the most important thing for young hikers is comfortable shoes. Depending on the hike, our son will either wear tennis shoes or hiking boots. I chose Stride Rite boots for his first hiking boots. They have a wide toe box and are flexible for little feet. Stride Rite shoes are a brand I trust for quality kid's shoes.
I use Keen boots personally and love their comfort and durability. If we are doing a short hike along a creek or lake we opt for Keen sandals. These have been a staple for us since our son began walking. You can also opt to use tennis shoes if your hikes are short distances with little elevation change. I'm all about using what you already have!
We have also had great luck with Merrel hiking shoes. These shoes are durable, low-priced, and washable! I find they run small, so size up about a half inch. 
If your toddler is just starting out on hikes you will be fine using their sneakers for hikes. Don't feel the need to buy something specific just to begin hiking!
Toddler Backpacks
Backpacks for toddlers and young children are more of an accessory than a necessity. They should not carry more than a few ounces of water and a couple of fun items. These are two of the best hiking backpacks for little hikers. 
Deuter Schmusebar Backpack
This compact backpack is a great design for very young toddlers or little kids. At only 8 liters, this backpack fits just the essentials for young kids. Our daughter began using this backpack at two years old, and it fit her well. The straps are easily adjustable and the chest clip helps her to keep the backpack on. A drawstring storage area works well for storing a few items for little hikers. The Deuter Schusebar backpack easily rolls up to fit into an adult's backpack if your toddler gets tired of carrying a backpack on their own. 
Camelbak Scout Backpack
This 12.5-liter backpack with 1.25-liter hydration system is a great first backpack for young children. With plenty of storage space, this backpack can carry all a toddler's essentials and then some! A bit larger than other toddler-sized backpacks, this is one that will last for years to come. 
What to Carry in Young Children's Backpacks
Our kids love to bring a toy along with them on the trail. One of their favorite hiking items includes Schleich toys. Schleich toys are realistic-looking animals and dinosaurs. Their plastic exterior is high quality and easy to clean up after getting muddy on a trail. We have a whole collection of different animals! 
Our kids also love carrying a stuffy along with them. One of their favorite things to do at national parks is to get a new "friend" to bring along on their hikes.
In the spring and the fall, our kids also carry a lightweight Primary Puffer jacket. These jackets pack down small and are affordable midweight puffy jackets. You can get 20% off with the code AFF20PCT!
If you are hiking with a chance of rain, be sure your toddler is carrying their rain gear. We love our Reima rain gear for keeping our kids warm and dry on the trail.
Giving your toddler a backpack allows them to take ownership of their own items. They also gain confidence and independence on their hike. Just remember that you may need to be ready to carry the backpack for them at times! We definitely have done that.
Another great option for young children to carry is a small snack. I typically give my kids a granola bar or piece of fruit to carry in their backpacks. They are always excited to pull out their snack themselves!
Gear for Toddlers in Carriers
Okay, this is super short and not really gear. Give them a short stick and they'll be perfectly content! This is typically the case with our daughter. Our son loves hiking with a stick and our daughter wants to join in the fun too with a stick of her own. It's so simple! Just make sure it's short or you'll be getting whacked by the stick!
Alternatively, a small toy would be another thing for young toddlers to hold during the hike.
Gear for Mom and Dad
When you're hitting the trail with your little one you need to be prepared for all sorts of situations. From potentially carrying your kiddo along the trail to first aid, parents need to have the right gear. It can feel like a lot of weight when you're carrying a toddler and carrying gear for everyone, but it's worth being prepared for anything!
Deuter Kid Comfort III – Backpack Carrier
Once our babies were able to sit independently we began using the Deuter Kid Comfort III child carrier. We consistently used that carrier until our son turned 3.5 and began wanting to walk sections of the trail. Over the summer we encouraged him to hike independently but brought the backpack carrier just in case he needed a ride. The Kid Comfort III is no longer in production, but the Kid Comfort Pro is very similar. We love that the Kid Comfort III is easily adjustable for myself and my husband.
The Kid Comfort III and the Kid Comfort Pro both feature a built-in sunshade that works surprisingly well in rain too. Toddlers and babies are securely fastened into this backpack carrier using a five-point harness. This gives you the peace of mind that they are safely strapped into the carrier. The storage area is a bit tight in this carrier, making it less ideal for longer hikes. The water bladder sleeve is easy to access and makes staying hydrated while toddler wearing easy!
Osprey Poco Plus – Backpack Carrier
We also have the Osprey Poco Plus. I honestly find this pack very uncomfortable on my hips. I can't get a good fit with it. So this is the pack my husband used when we both carried toddlers. The Osprey Poco Plus features a roomy storage area that holds significantly more gear than the Kid Comfort III. The Osprey Poco Plus also features a built-in sunshade. The shoulder straps are easily adjustable.
Both the Osprey Poco Plus and the Deuter Kid Comfort are good quality kid carriers. I think it's best to try both to decide which will be the most comfortable for your own family.
Bob X – Soft Structure Carrier
If we are hiking a short distance I have found that using my Boba X is the most comfortable option for hiking with a toddler on our back. This is the best carrier for infant through toddler babywearing. It is incredibly adjustable and grows with your baby. Once in the toddler stage, you can add paneling to extend the seat and leg area to fit young toddlers.
Best Day Pack for Moms
Now that both my kids are young children/older toddlers, I'm back to carrying my favorite backpack! I'm so happy to have this comfortable day pack back in use. The Osprey Sirrus has an adjustable hip belt, mesh back to keep cool, and plenty of storage. I use the 24-liter backpack and find it gives me plenty of room for shorter day hikes with my kids. We have not done many long hikes with our kids yet (over 4 miles). However, this backpack worked well for longer hikes for me prior to becoming a mom. For most parents of young children, this backpack should give you plenty of storage space for hiking with young kids. Typically I carry all our gear in my backpack and have my young children carry just a few items in their backpacks.
I also love this backpack, because it works well with my go-to kid carrier for older toddlers and young children – the Trail Magik!
Trail Magik: Best Child Carrier for Older Toddlers
Use code OUTDOORSY to get a 10% discount!
The Trail Magik allows me to be prepared for anytime my daughter needs a quick boost. The Trail Magik kids carrier works great for short distances when little legs get too tired for hikes. This handy carrier attaches to my day pack to provide a short ride when our daughter gets tired.
When attaching the Trail Magik to my backpack, I first attach the carabiners to the hip straps. After attaching the carabiners, I buckle the webbing to the adjustable shoulder straps on my backpack. After attaching the carrier, I lift my daughter in and adjust her to comfortably sit on my front.
The Trail Magik is most comfortable for me for short distances. After any longer distances, I find that my shoulders begin to ache. I still think it's a brilliant product for hiking with toddlers and preschoolers, but I do only use it when my toddler is tired after hiking on her own.
Other Essentials in Our Backpack
We carry a small first aid kit. Ours is pretty basic for our shorter family hikes. Of course, hiking with little kids means bringing plenty of snacks. I like to make my own trail mix, but we also usually bring some fruit and some bars.
Other items we always pack are:
Rain gear if it's forecasted to rain.
Extra layers for changing weather conditions
Sunscreen
hand sanitizer
Hats
Plenty of snacks
Extra Water
Extra clothing for potty training toddlers
A potty kit for potty training kids (toilet paper, extra undies, trowel, and last
Toddler Hiking Gear
Whether your toddler is just beginning to hike, or you have a little adventurer blazing the hiking trail, getting the correct gear for your family hike will make your day hikes all the better!
Now that you know what gear you need to get hiking with your toddler, let me know how your next adventure goes on the trail! Be sure to check out these other articles and podcast episodes on hiking with a toddler: