20 Ways to Motivate Kids on a Hike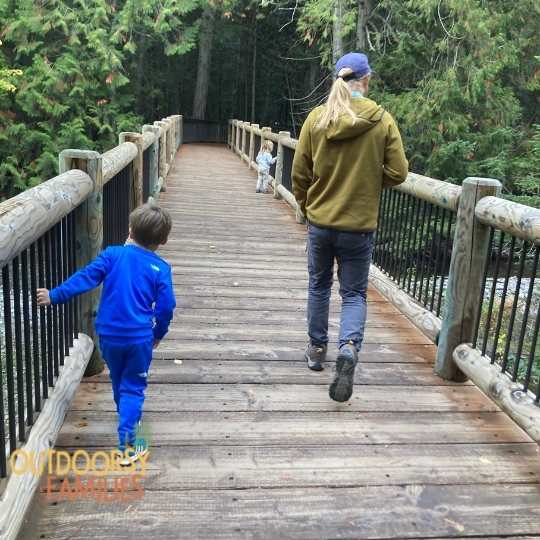 We all want our kids to find joy in the outdoors! Outside play is not only good for the body but it's also good for our mental health too. In my opinion, hiking is one of the best ways to get outdoors because it does not involve buying a lot of gear and trails can be found nearly anywhere. However, hiking with our kids can include its fill of struggles at times. There are times when we have t get creative and dig deep to motivate our kids to keep hiking. We always try to keep things fun and to make hiking a positive experience. Below are 20 ways to motivate kids to hike (even when they don't want to!).
This post contains affiliate links, including links from Amazon. If you use these links to buy something we may earn a commission at no extra cost to you. Thanks for supporting our family!
1. Get Kids Involved in the Planning
I suggest that you let your children have some say in where they are hiking. When they have a say in where they are going they will be more willing to participate in that hike! Give them options to choose a hike that fits their interests. You can choose the hike based on interests or on scenery.
2. The Power of Language
When my children are reluctant to go on a hike I typically change the language I'm using to describe the adventure. Instead, I'll say "we're going on an adventure today." That will get their attention right away. Then I'll answer any questions they have about the adventure we're going on.
I will also just describe the destination that we are going to. If we are hiking down to the lake I will say "let's take a secret path down to the lake where we can throw rocks!" Knowing what they will be doing after walking to their destination gives kids more sense of control. They know the goal and can express how they feel about that adventure.
At some point over the years, we began calling hikes and walks with all four of us a "family walkabout". My husband works long hours and typically only has one day off a week. To hear that dad is going to be joining us on a hike is usually motivation enough to get us all out of the house! You don't need to call your family time outdoors a "family walkabout" but I do suggest you find a term that everyone can get excited about.
Language is a powerful tool and can be a major motivator to get kids hiking on trails.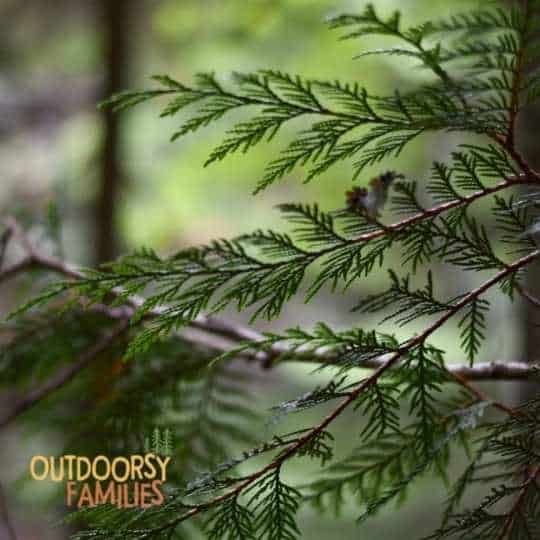 3. Play Games on the Hike
One of the best motivators for kids is to incorporate play into activities. I use this for everything from cleaning up to hiking on a trail. Our play on the trail can range from imaginative play (like pretending to be Elsa and Anna in the Forbidden Forest) to structured games. Some of our favorite structured games on hikes include:
Hide and Seek: Typically when we play hide and seek on a hike I will have my kids hide directly off the trail. I'll count while my kids hide in the direction of travel. We take turns moving along the trail in this way. This is great for hikes when you're not too concerned about the destination! This game works best on forested or rocky trails. Also, remember to practice Leave No Trace. Don't play this game in places where stepping off the trail could have a negative impact on the environment (like alpine meadows.)
Trail Tag: Similar to regular tag, but everyone needs to stay on the trail. This game works best for trails that are not busy. I would not recommend playing Trail Tag in a populated area. You're definitely going to annoy the other hikers on the trail! I personally play this hiking game on less traveled hikes, and the kids love the freedom to run up and down the trail.
I Spy: This is the quintessential trail game for any area! I Spy is so simple. You most likely are familiar with this game, but if you're not you need to add it to your trail resources. All you say while hiking is "I spy with my little eye something (adjective)." Everyone guesses what it is until someone guesses correctly.
20 Questions: 20 Questions is as easy as I Spy. Simply think of an object or person and your kids need to as yes or no questions to figure out what you're thinking of. They have 20 guesses to identify what you're thinking of!
Red Light, Green Light: This is similar to playing trail tag. You're going to want a trail that's pretty empty. When you yell "green light!" your children can run or walk quickly until you say "red light". At that point, kids need to freeze. This game is great when kids are losing interest in the hike.
Walk Like an (Animal): This is another great game to get kids moving when they begin to lose interest in the hike. Instruct your kids to walk like a certain animal. For example, "gallop like a horse!" or "walk like a turtle". It's funny to see how they complete these activities. We always make some distance along the trail by playing this game.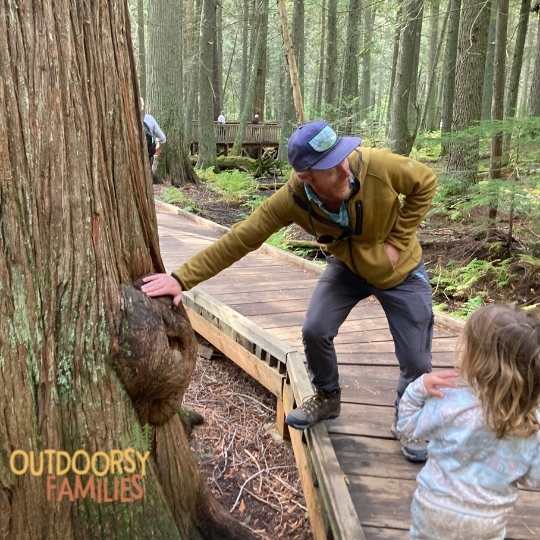 4. Sing Songs as You Hike
Another great way to motivate kids on a hike is by singing songs. We sing a lot of silly camp and preschool songs while we're hiking. Call and respond songs are great for hikes too!
Some of our favorite songs to sing while hiking includes:
Can You Hear the Lions Roar?
5. Hike with Friends
Nothing makes a hike more fun than hiking with friends! As a stay-at-home mom, I love hiking with other moms just to get some desperately needed adult interaction! Plus my kids go farther and faster when they're with other kids their age. I'm very thankful to live in a community with an awesome hiking group for moms. My local group is not affiliated with a larger organization and is just for women and young children around Kalispell, MT. If you're not living in Kalispell, you should check out Hike it Baby to see if there's a community near you.
6. Hike as a Whole Family
I WISH this was our family's hiking norm. Unfortunately, it's not. Richie works a lot. Especially in the summer. Often I take my kids hiking on my own. But, when dad can join the hikes are always better. Having two adults allows you to work together to the hiking stoke high. Also, it's another set of hands or back for helping and carrying little ones. My favorite hikes have always involved the whole family hiking together.
7. Never Leave Home Without Snacks
Can a parent go anywhere without a full arsenal of snacks? I certainly wouldn't try it. Especially not on a hike. I try to pack calorie-dense snacks that are lower in sugar. Some of our favorites include:
Apple slices and nut butter
Homemade trail mix with cashews, pecans, raisins, chocolate chips, and unsweetened coconut
Nut butter sandwiches
Occasionally Z-bars (but they're heavier in sugar than I like)
Sweet potato chips
String cheese or BabyBells
Whole grain crackers
Carrot sticks and hummus
Just being honest here: if my husband is around the kids are probably snacking on Cheetos too.
8. Don't Worry About the Distance
Comparing your kid's hiking distance to others online, or even to their own abilities is going to make for some disappointing hikes. Let your kids set the pace. This is going to mean that hiking distances are going to vary greatly between hikes!
I know this has been a big journey for our family this summer.
There are days when my son can hike for miles, if he has the right motivation. There are also days when we get nowhere fast. My daughter still wants to be carried, but I can no longer carry her without pain in my neck and shoulders. I spent the summer in physical therapy to get my neck and shoulders pain-free, and I'm not going back!
For now, that means we hike what my daughter can do without being carried. That's about a mile max. We're continuing to build on this, but she will want to be carried if I push her farther than what she's comfortable doing.
As someone who is sharing my hiking experiences online, I struggled with not going far enough on hikes. Not backpacking with my kids or tandem carrying or all the other awesome things moms are doing in the outdoors. But that's not what my body can do comfortably. And that's okay. This summer I changed my mindset and knew I needed to do what was best for my health and not try to reach unrealistic expectations.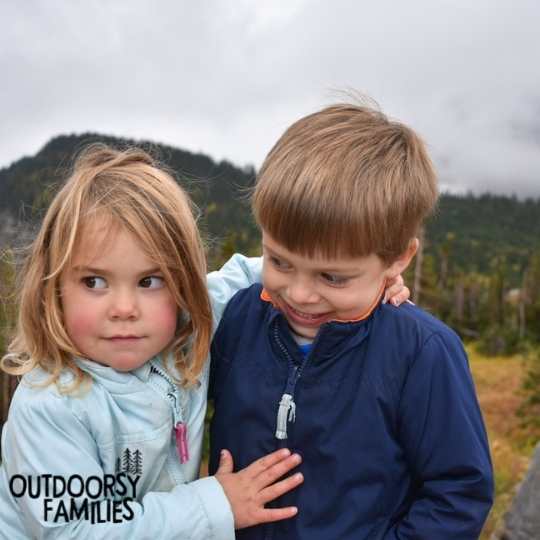 9. Get Familiar with Local Trails
No, you don't need to save your family hikes for the National Parks or major road trips. If fact, you'll get more out of hikes with kids if you help them develop a relationship with the hikes that are near them.
One of the major reasons why I'm an advocate for visiting local trails is so your kids can develop a love for hiking. If you're only hiking on vacations your kids are NOT going to be as motivated to hike as they would be if you're hiking a few times a month
The other critical piece to hiking locally is that visiting an outdoor space frequently builds a deeper relationship with the area. This is where those core memories are going to come into place!
10. Be Prepared for Your Hike
Being prepared for a hike is going to make the hiking experience smoother and more fun for everyone. Not preparing for a hike will not only lead to unmotivated hikers, but it can be dangerous! At the very least be sure to pack:
Water for everyone (about 2 cups/hour for adults and 1-2 cups/hour for kids)
Small first aid kit
Snacks
Extra layers
Bear spray (if in an area with bears)
If you want a complete packing list (for free!) download my hiking with kids guide!
11. Plan Trips Around Hikes
I know I said to make sure you hike locally, but that doesn't mean you shouldn't experience hikes in gorgeous destinations! When you're planning your next trip be sure to see what hikes are available. Some of my favorite hiking destinations are:
Glacier National Park
Arches National Park
Oregon Coast
Lake Superior shoreline
I like using AllTrails to find destination hikes. I make a list of my favorite potential hikes for our trip, then share the list with my husband to decide what trails we are going to explore.
12. Know When to Choose Different Activities
Not every outdoor adventure need to be a hiking day. Sometimes that is NOT appealing to my kids. This doesn't mean that we don't get outside though. Some of our favorite other outdoor activities include:
Biking
Swimming at hot springs
Playing at the lake
Visiting local parks
Skiing
Going on a picnic
13. Bring a Trail Stuffy
A huge motivator for both of my kids is bringing a stuffed animal along on a hike. Bringing this "friend" along helps my kids share the experience. My kids expect to bring a stuffy with them now!
14. Let Kids Carry Some Gear
Similar to bringing a stuffy with them, carrying a backpack with a few pieces of gear can give my kids a big motivator on the hike. Carrying some gear in a backpack gives your kids a sense of ownership. They should not carry more than a few ounces of water and a couple of fun items. Our son was very interested in carrying a backpack, so we got him the Camelbak Scout. It's a compact backpack with a hydration system. We keep the water to only about 16 ounces right now as he learns to hike with a backpack on. Our daughter started carrying a backpack at two, and this Deuter backpack is smaller and more compact for her. She can carry a water bottle, an extra layer, and a snack easily with her backpack.
Sometimes, especially on hot or long hikes, the backpack can become a burden. There have been plenty of hikes where I end up stuffing their backpack into mine. Use your judgment on whether the hike you are doing is a good fit for bringing a kids backpack along!
15. Complete a Scavenger Hunt
Scavenger hunts can provide a fun activity to motivate your kids on a hike. There are so many options for scavenger hunts online. I like doing picture-based scavenger hunts with my toddler and preschooler. However, there are plenty of options for older kids too.
16. Just Add Water
If it's a hot summer day consider hiking near water. Hiking along and through a creek or hiking to a swim in a lake are some of our favorite summer hikes.
17. Hike in All Seasons
Hiking in all seasons provides kids the opportunity to see the changing seasons in action. I like hiking the same local trail with my kids in all seasons so they can see these changes in a tangible way. If you are looking for a hike that's great for all seasons look for one that:
is near water
includes deciduous plants
receives some snow
Hikes that include these things are the best for showing the changing of the seasons.
18. Take Breaks Often
Letting your kids rest along the trail is going to help kids make it to the destination. We take water breaks often, but it's also important to take breaks for playing and exploring. Playing in the woods or telling jokes while resting can renew your kiddos' energy! Stopping often for snack breaks will help refuel your kids and give them the motivation to keep walking.
19. Don't Forget a Carrier
Despite working on getting my kids hiking independently, I still like having a carrier as a backup plan. Lately, I've only been bringing the Trail Magik kids carrier just in case our daughter needs a short ride on the trail. This handy carrier attaches to my day pack to provide a short ride when our daughter gets tired. Use code OUTDOORSY to get a discount!
20. If All Else Fails – Use Bribery!
I am *NOT* one of those parents who give my kids candy while hiking. My reason is that I don't want my kids to associate our outdoor experiences with receiving treats. I'd rather have them like being outside for the joy of being outside!
However, bringing something small can be a huge motivator when kids are feeling burned out. I usually use a little candy bribery as a motivator when I know that I'm going to be challenging my kids.
Kids on a Hike
With a bit of motivation, kids can surprise you with how much they can enjoy camping. If you are looking for more information on hiking with kids, download my hiking with kids guide!
Looking for More Hiking Content?
Check out our other articles on hiking to read more about getting your family on the trail!
7 Strategies to Get your Toddler Hiking Independently
Five Tips for Hiking with Toddlers
Trail Magik with Katie and Conner O'Mara
Adventures in Alaska with Kristen Kupperman
Becoming Outdoorsy with Hannah Johnson