Best Ski Harness and Ski Tools for Toddlers (2023)
If you are skiing with a young child or toddler you will be tempted to purchase a ski harness to help your toddler learn to ski. Especially when you are skiing with young kids for the first time, it may make sense to use a tool to keep your little ones close by.
I wish it were this simple, but when choosing a ski tool for your toddler, you need to be sure that anything you choose isn't causing more challenges. Some ski tools, such as ski harnesses, can negatively impact your child's learning process. Ski Harnesses can develop longer-term bad habits that will be harder to break than skipping the harness in the first place. 
Don't fear if you're not sure where to go from here! I've got the best alternatives to ski harnesses, some harnesses that may work for your family, and other great tools (like the edgie wedgie!).
This post contains affiliate links, including links from Amazon. If you use these links to buy something we may earn a commission at no extra cost to you. Thanks for supporting our family!
The problem with using a kid's ski harness
Ski Harnesses can cause several issues that you want to avoid when teaching young kids to ski. The major problem is that a ski harness attaches to a child in the middle of their back or shoulders. This causes kids to lean back when their bodies begin moving against the slack in the reins. When kids are leaning back they are no longer engaged in the correct skier stance (legs hip distance apart, knees ready to bend, hips slightly bent, shoulders lined up with their legs.)
This leaned-back position is going to cause your child to struggle as they learn to turn, stop, and control their bodies. Also, as your child gains confidence they will develop a tendency to lean back and will continue to do this without the harness. 
Ski harnesses can also result in floppy, noddle bodies. Your small kid will be leaning hard against the reins and relying on you to hold them upright as you go down the mountain. You'll pull in the reins a bit to bring them closer and suddenly they're skiing between your legs like a wet noodle! You do not want your child to be relying on you to ski down the mountain. You want them to be able to stand on their own skis. The floppy noodle technique gets very tiring, very quickly – and your toddler isn't actually learning to ski.
If you're wondering how to start teaching your toddler to ski, be sure to check out my post on teaching toddlers to ski!
When to Choose a Ski Harness (and when not to)
When my two kids were four and two I decided I wanted to start taking them skiing by myself at our local resort. We recently moved back to the West (Montana!) and my husband was working a lot. I wanted to soak in every moment of skiing that I could and was ready to get my own personal ski crew going. As a ski mom, I knew the biggest barrier was going to be keeping both kids safe on the ski hill.
The only problem with this plan was that my daughter wasn't skiing independently yet. She was only 2 years old but had some very positive skiing experiences. However, she did not have the strength to stop on her own or the cognitive abilities to decide when to keep herself safe. My 4-year-old son was skiing well on his own, but I still needed to be able to stay near him and support him. So I approached my husband to ask if he'd agree to get a harness for our 2-year-old. 
My husband is a ski instructor and has always been adamantly against using ski harnesses. He promptly told me no. He did not want us to use a ski harness for our daughter. So I began my search for an alternative that would allow me to ski with both my kids on my own.
My search ended with a great tool called the Slope Ropes! I showed my husband the website and how this tool aligns with techniques taught in ski school. He reluctantly agreed to give it a try. 
The Best Ski Harnesses Isn't a Harness: Slope Ropes Review
The Slope Ropes ended up being a great way to get both my kids skiing on the mountain together. Not only that, but my ski instructor husband agreed that it was an awesome ski tool. He said he would even use it in ski lessons with cautious or nervous clients.
So what makes the Slope Ropes the best ski tool?
The best part about the Slope Ropes is that it keeps the toddler in the correct ski stance. The simple design of the Slope Ropes consists of a solid braid polypropylene rope with two plastic handles spaced an equal distance apart. The parent holds one handle and the young child has the other handle at hip level. As young skiers begin to move forward the rope works to keep the child near the adult, while the little skier stands on their own, supporting their body weight. Parents will find that steering their child with the Slope Ropes is simple. It's so easy you can do it one-handed! (Or even on a snowboard, if you're into that!) 
Once back at the magic carpet or chair lift, parents can easily flip the Slope Ropes over the kid's heads. Wrap the rope around the handles and tuck it away for the next run! 
I personally find the Slope Ropes a simple way to teach my daughter not only how to stop, but also how to turn to stop. Now that she is skiing on her own she has gone straight from the Slope Ropes to turning while making her pizza to stop. (The technical ski school term for this is Wedge Christie.)
Another advantage of using the Slope Ropes is that it gives you the ability to tow your young kids through flat terrain. Bunny hills can be notoriously flat, to the point where younger kids can get stuck. Before toddlers can shuffle through flat areas at the ski resort they will need your help to get where they need to go. To give your toddler a tow using the Slope Ropes, hold the handle and either place the handle on their lower back (this works best for very young toddlers) or have your child hold the handle as you skate them through the flat terrain. 
Slope Ropes Tips and Tricks
We've been using our Slope Ropes for over a year now, and have learned the ins and outs of making this ski tool work best.
First, begin using the Slope Ropes on a gentle slope. If your ski resort has a magic carpet, be sure to begin there! Keep a bit of slack between the rope as your child skis with their handle at hip level. Our daughter always likes to hold her hands on the handle. This is fine, but not necessary. The slack will allow your toddler to experience the learning process on their own. Encourage them to make their wedge (pizza, triangle, whatever word you and your kid like!).
As they get better at this on low-angle slopes, gently pull the sides of the rope with your handle to steer them. Help your toddler to experience turning at a slow pace. As they turn, encourage them to make their wedge.
Once they have mastered this on the bunny hill, you will be ready to try your ski resort's green terrain that's accessed by the chairlift. Use the same techniques you used on the magic carpet as you ski off the chairlifts. As your toddler gains confidence, let them ski on their own in low-angle terrain. Always stay within arm's reach of your child as they learn to steer and stop on their own!
Continue to build on the skills learned using the Slope Ropes until your child can ski, turn, and stop without your assistance. As they build gross motor skills they will continue to become stronger skiers.
Other Things I love about the Slope Ropes
Slope Ropes have allowed me to ski with both my young kids at the same time, even when my husband is working. It's kept my toddler nearby as she learns to ski, while still giving me the ability to stay near my preschooler. It really is a great ski training tool!
The Slope Ropes work great for speed control. I'm not suggesting that you take your toddler on steeper slopes where they are making straight french fries down a blue run. However, the rope does allow my daughter to ski green terrain at a speed that keeps her near me. If it wasn't for the Slope Ropes, I would have had a runaway toddler! At two she loved going fast and would laugh like a wild child while careening down the mountain. She had no fear and did not understand the risks involved in skiing. At three, she's still skiing fast, but I have more trust in her decision-making. For the most part, she's now skiing without the Slope Ropes, but I do keep it tucked in my coat just in case I want to keep my little speedster near me. 
The Slope Ropes provide a confidence boost on more challenging terrain. My daughter is now skiing steeper greens on her own. However, she's still only three. Sometimes she gets nervous or tired. The Slope Ropes give her the confidence to ski harder terrain because she knows she has mom on the other end of that rope. She's still controlling her speed on her own. She's still turning across the mountain, but she has that sense of comfort at the end of the rope.
Until I get to ski with poles again, the Slope Ropes give me an easy way to haul both my kids out of flat terrain! If it's flat I pull the Slope Ropes out of my coat and give my kids a tow. They each hold onto a handle and I hold onto the middle of the rope, keeping both sides of the rope in my hands. 
Cons of the Slope Ropes
Yes, I've found some disadvantages to this generally great tool.
The handles are too big to fit in my pocket. I've tried and I've accidentally dropped it off the lift by putting it in my pocket. I have to put the Slope Ropes inside my coat to store them. This is okay, but it can slide out since I don't have a powder skirt on my jacket. (My husband doesn't have this problem.) Also, I have a short torso and the Slope Ropes are awkward to store in my coat.
There have been plenty of times that I've tangled the ropes when I'm trying to store them.
I've tripped myself and my daughter by accidentally getting the rope stuck in the ski brake.
I accidentally pulled the rope too hard and knocked my daughter off balance. My husband also hasn't done this before. (Probably user error!)
Best Ski Training Tools for Toddlers
There are other great tools out there to get your little kid skiing. We've used some of these tools frequently, and others we've encountered while on the ski hill.
Edgie Wedgie
The Edgie Wedgie is a ski tool that connects your toddler's ski tips together. The simple design includes a clip and bungee attachments that connect to the tips of the skis. This helps them learn to stop and turn on their own. It also helps them learn to control their skis. 
By the way, if you're not sure what size skis your kid needs, be sure to check out this article!
Pros:
Makes learning to turn simple for little legs.
Helps young children gain confidence in how to turn and stop
Prevents little kids from crossing their skis as frequently
Very useful for young children who don't have the strength to drive their skis yet.
Cons:
It should be disconnected before loading the chairlift. If a ski somehow falls off while riding the chairlift your child won't have a ski pulling on them.
It can become a crutch that can be hard to break with kids. Our son went through this. We knew he didn't need it, but he would get upset if it was taken off. Eventually, we put him in a ski lesson to have someone other than us remove it. This worked great but cost us some extra money! 
Use it sparingly and let them experience skiing without it. 
Chairlift Vest or Handle
A Chairlift vest will easily help you boost your young child onto the lift without having to scoop them up from underneath their armpits. Most ski resorts use vests for young children in ski schools for the same purpose.
I went a long time without using one because I didn't think it was necessary. When I skied with my two little kids I would ask a liftie to help me load them. However, I had several lifties who were uncomfortable with helping load my kids. To prevent this issue I bought a harness-type handle to load both kids at the same time. I DO NOT use this in any way to help them ski. The handle is meant for lifting your kids onto the chairlift or after falling. It's definitely made getting my kids back up on their feet after a crash easier.
Ski Vest
Pros:
Helps parents to load the chairlift easily with younger kids
Eases parent's back pain when lifting kids after a crash
Cons:
Lucky Bum Grip and Guide
Pros:
Helps parents to load the chairlift easily with younger kids
Eases parent's back pain when lifting kids after a fall
The adjustable shoulder straps make it a great fit for most little kids.
Cons:
It should not be used as a teaching tool but does look like some harnesses.
Hookease
Hookease is a teaching tool that attaches to the back of your child's skis. The parent attaches the hooks to the end of their pole and inserts the hooks into the device on the back of the child's skis. The parent then has control over the kid's skis. This is useful because the parent has control over steering and helps the young kid learn how to form a wedge to stop. It does not pull the kid's shoulders backward, allowing the child to learn how to properly stand while skiing.
Pros:
It helps kids learn how to turn and stop without improper technique
Keeps parents nearby to prevent runaway toddlers
Cons:
The attached devices are heavy and can feel like extra weight for little legs.
You need to unhook the ski poles after each run.
There could be a hazard if both of you fall.
The parent should have longer poles so they don't feel too close to the kid.
 Lil' Ripper Gripper
Lil' Ripper Gripper is a 5-point harness with a handle on the back. The leashes attach near the child's hips. This works to prevent walking the dog/leaning back which happens with traditional harnesses. Similar to a dog leash, the Lil' Ripper Gripper has two retractable leashes that clip onto the harness. For snowboarding kids, parents can attach one retractable leash at the center of their back. They also feature a small pocket for storing the leashes while on the chairlift or skiing independently. The leashes can be lengthened or shortened depending on your child's needs.
Pros:
Versatile lengths for giving kids more space or keeping close
Handle on the harness allows easy pick up for loading the lift and after falls
It can be used for skiers or snowboarders.
Cons:
One of the most expensive skiing teaching tools out there
A 5-point harness is unnecessary and possibly uncomfortable for young skiers. It does help keep young snowboarders up.
 Hula Hoop
If you are looking for a budget teaching tool for getting your toddler skiing, consider using a hula hoop. Hula hoops work similarly to the Slope Ropes but keep the kid closer. Ski instructors often use them as a quick tool for anxious beginners as they gain confidence.
Pros:
You may have a hula hoop at home already!
A low-cost way to help kids to learn to stop and turn
Cons:
The hula hoop is significantly shorter than the Slope Ropes and does not give the parent much room for making their wedge.
Because the parent is so close to the child their back can hurt from bending down.
If you plan on using this technique, it's probably a good idea to just order a Slope Ropes! Your back will thank me!
Ski Poles
Ski poles (or a longer pole) can be used as a way to teach your own kids to ski. While on the bunny hill, ski next to your child while you both hold onto the pole. The best way to use a ski pole is on low-angle terrain. If the terrain is steeper kids will begin to lean on you. We used ski poles to help our son to learn to ski on his own. I also still use this technique for very short spurts on steeper terrain if my kid becomes nervous or needs a confidence boost. I adjust this slightly when using it as a confidence booster and keep my kids between my legs while we both hold the poles at their hip level together. THIS IS NOT COMFORTABLE FOR ANY LONGER LENGTH OF TIME!
Pros:
As a skier, you already have poles to use.
Can be an easy technique when on the bunny hill
Can be used as an "emergency exit" when on steeper terrain.
Cons
This will hurt your back or thighs if you try it for any length of time.
Other Kids Ski Harnesses
If you are still interested in a traditional ski harness, choose one with reins that are closer to hip level to prevent your toddler from leaning back as they are skiing. I also recommend choosing a harness WITHOUT a backpack. Kids don't need to be carrying extra weight with them while they're skiing. Also, backpacks are a safety hazard on chairlifts. Adults are told to avoid them for this reason, so make sure you're following the same safety guidelines for your kids too! 
Best Ski Tools for Little Kids
Teaching a little kid to ski can be simple and fun with the right equipment. Be sure to choose something that will help your child learn to ski independently without unintentionally creating bad habits for the future. I recommend the Slope Ropes and Edgie Wedgie to get your kid skiing on the mountain! 
More Articles for Your Best Ski Day Yet!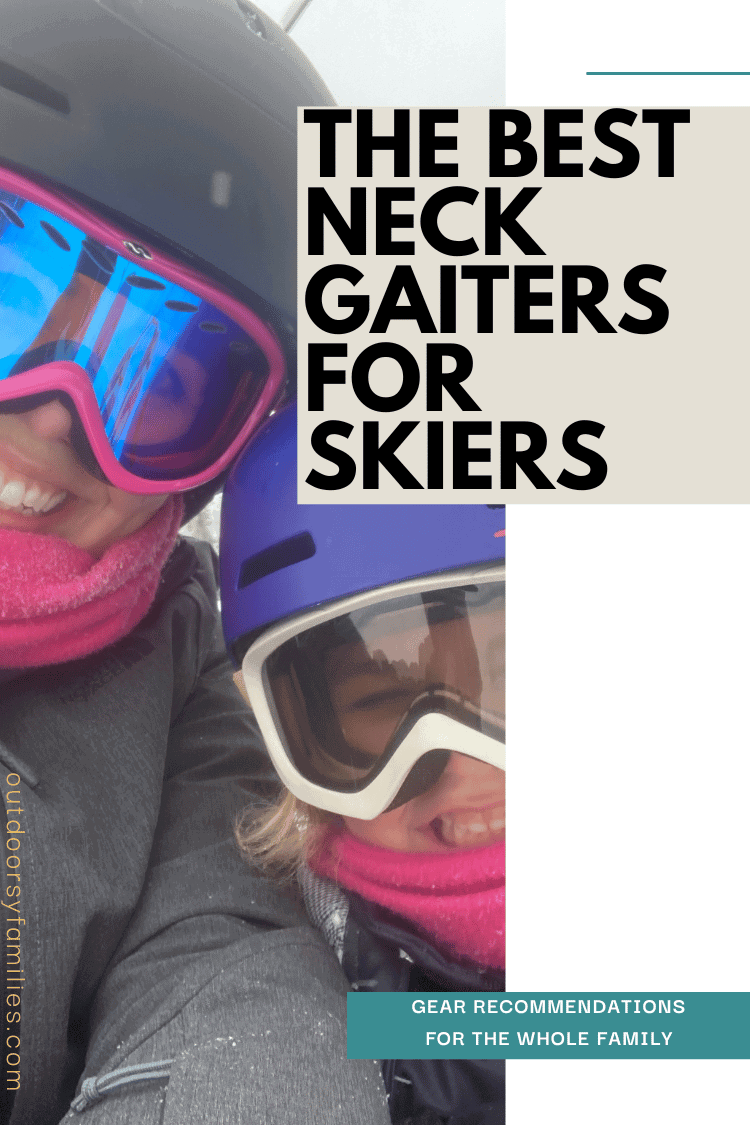 Staying warm on a cold ski day is essential to keep the whole family happy. We know the importance of quality ski helmets and outer gear. But, sometimes we can forget about a critical part of exposed skin. Our faces and necks! This guide shares the best neck gaiters and balaclavas for your whole family. From adults…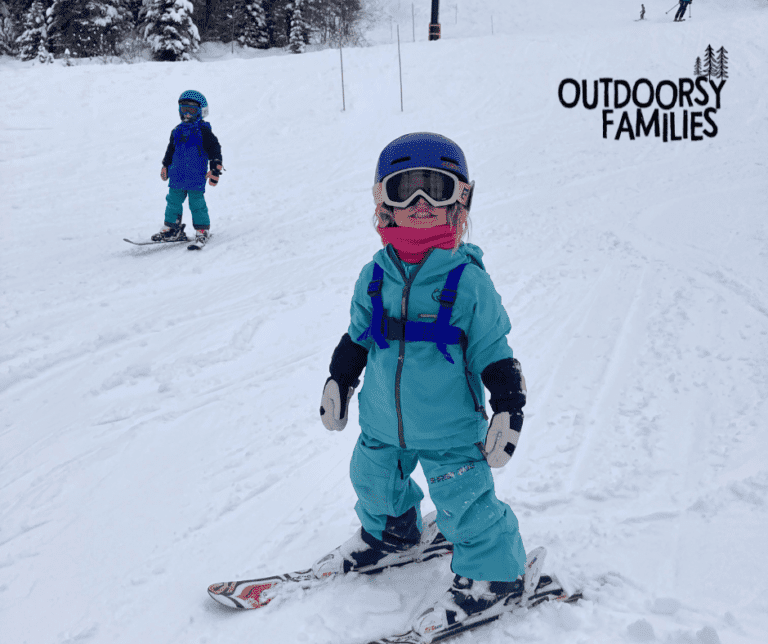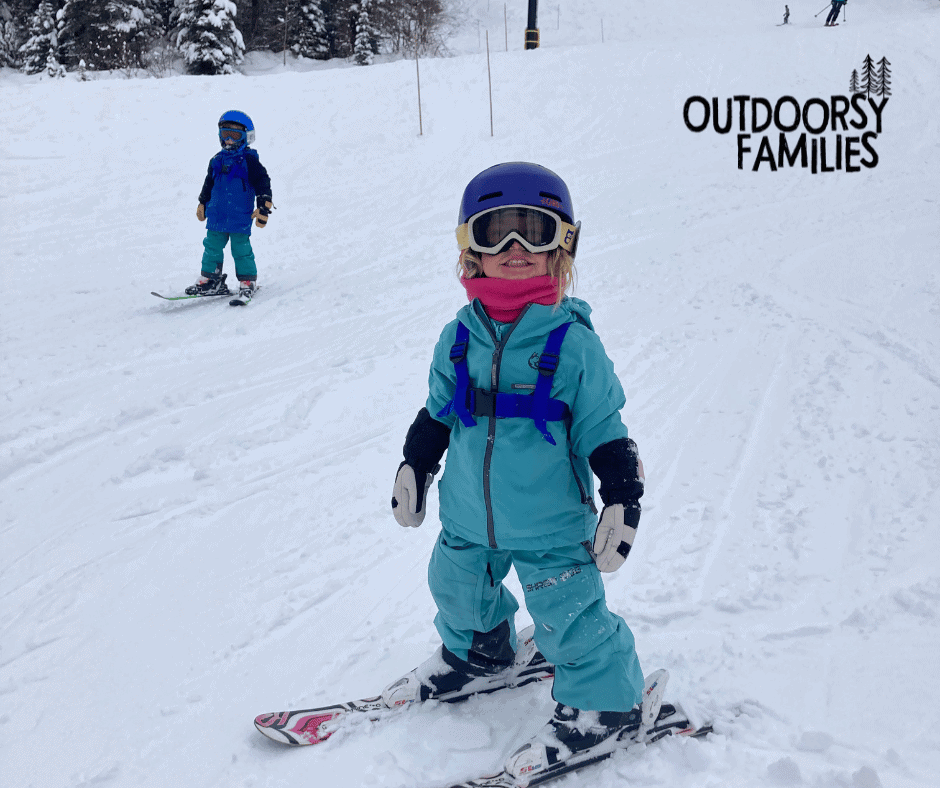 This post contains affiliate links, including links from Amazon. If you use these links to buy something we may earn a commission at no extra cost to you. Thanks for supporting our family! Choosing the correct winter gear for kids can have a significant impact on how your ski day is going to go. Kids…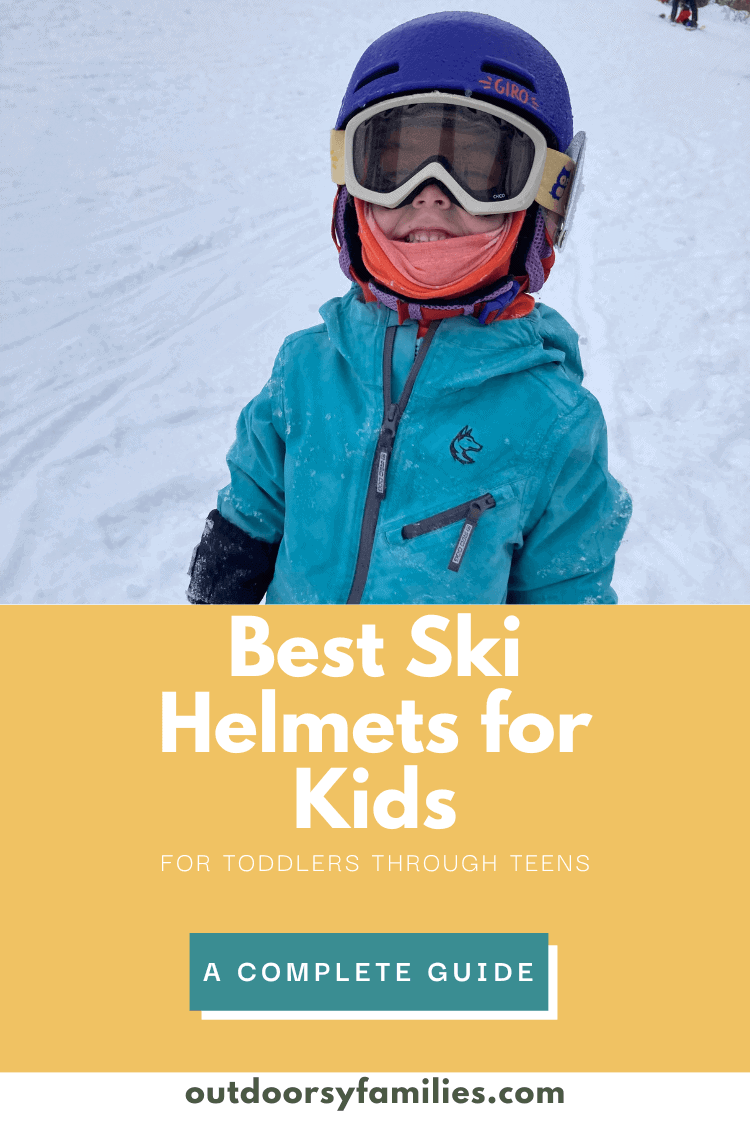 Choosing the correct ski helmet for your kid is one of the most essential pieces of ski gear your child will wear. Whether you have a toddler or a teen, there is the perfect helmet for your kid! Ski helmets are not a one size fits all process. Every kid's head shape is different and each helmet is designed slightly differently.  This buyer's guide gives you all the details you need to choose the perfect ski helmet for your kid!