Camping with Toddlers Essentials (Plus Printable Checklist!)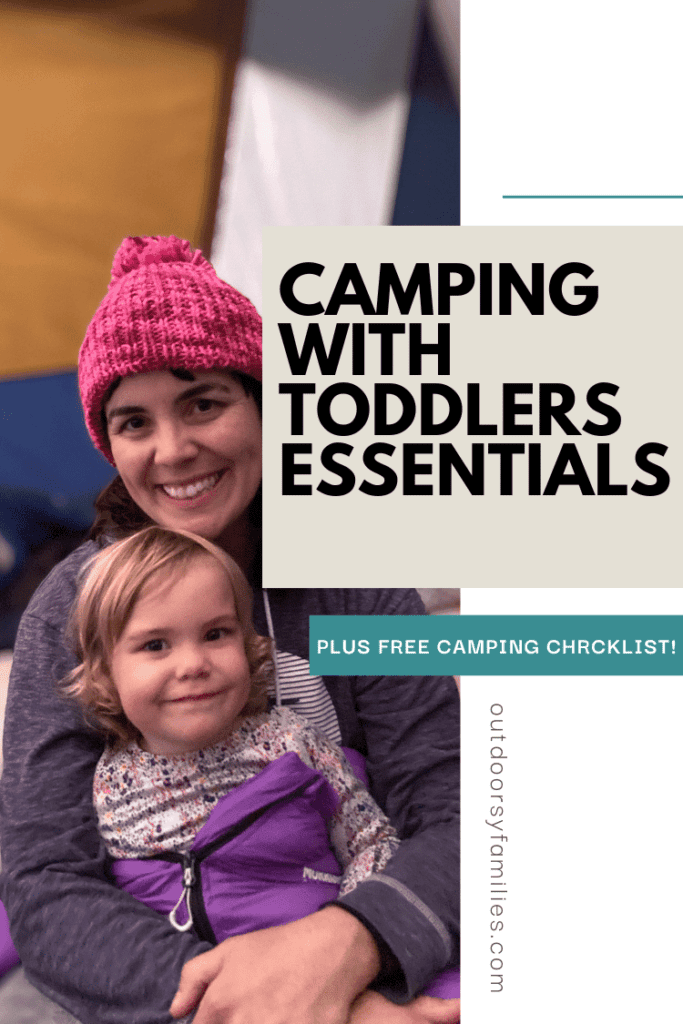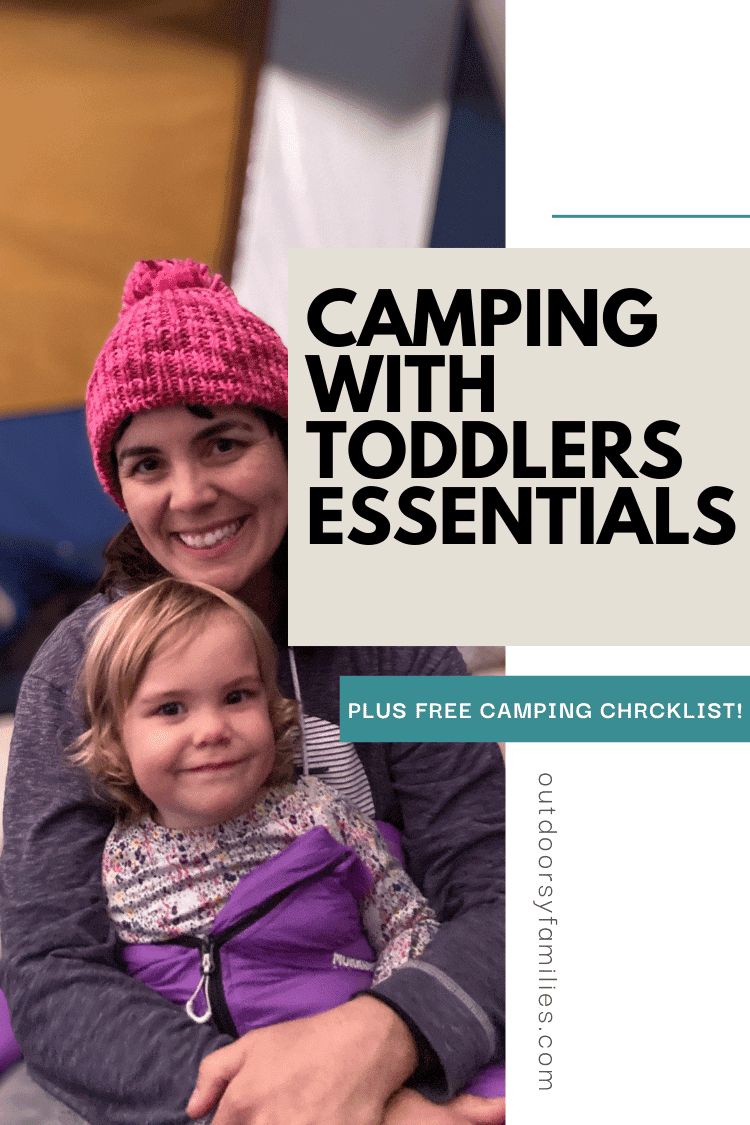 Camping with toddlers can be a magical experience. From exploring new areas through the eyes of little kids to making your child's first s'mores, camping with toddlers can be a fun and rewarding experience for the whole family. However, it's not without its struggles. Toddlers, especially young toddlers, are notorious for their need for routine. Camping is anything but routine for most toddlers. However, it doesn't have to be a struggle.
I've been camping with my kids since they were babies. A lot of this camping I've done on my own while my husband works at a summer camp. Camping solo with toddlers has given me a chance to figure out what is essential for camping with little kids and what is unnecessary. This checklist includes products that make camping with toddlers easier and less stressful so your whole family can enjoy camping together!
This family camping checklist is useful for everyone, from first camping trips to seasoned campers. I have also included a printable packing list to streamline camping with toddlers.
This post contains affiliate links, including links from Amazon. If you use these links to buy something, we may earn a small commission at no extra cost to you. Thanks for supporting our family!
Essential Sleeping Gear for Toddlers
Our family goes tent camping vs. camping in an RV. Sometimes we'll stay at the occasional cabin or yurt, but most of our kid's camping experience has been while camping in a tent. We've found we can even camp in cold weather with toddlers if you are prepared. Check out how to camp in the fall here!
1. Sierra Designs Alpenglow 6 Tent.
This tent has literally saved my sanity for camping with toddlers. Before I bought a blackout tent, I would spend my evenings at camp coaxing and begging my young kids to go to sleep before 10:30 PM! Once I invested in the Alpenglow 6 I could put my toddlers down for bed at their bedtime at home. The blackout tent keeps it dark and distraction-free when I tuck my kids in. This gives me more freedom to enjoy the campfire and have a few minutes after the kids sleep.
This tent also makes naptime possible while camping! Before using a blackout tent, I either needed to plan a hike and carry my toddler for naptime in a baby carrier or plan a drive during naptime. Now, my toddler can comfortably nap in darkness even in the middle of the day!
Yes, this tent is so dark that you will need a flashlight during the day to find items. That's also the only annoying part of this tent. It's almost too good at blocking light! But then again, that's the point, right?
2. White Noise Machine
This cute, small white noise machine is USB-chargeable and portable for camping trips. White noise is a must for our camping trips because it deflects all the outside sounds that can be so distracting for my toddlers at bedtime. We've had this small white noise machine for over 5 years and it's still working well. My toddlers already use this same white noise machine at home, giving my kids a familiar sound to help them fall asleep easily while camping.
3. Morrison Outdoors Big Mo Sleep Sacks
Traditional sleeping bags work for toddlers, but it can sometimes feel like a pain. Young children slide out of their sleeping bags often and need to be put back in throughout the night. Morrison Outdoors has created these genius sleep sacks that are warm enough for camping in cool evenings (unlike traditional sleep sacks!) but stay snugly on your sleeping tot throughout the night.
Morrison Outdoors has expanded its line to include older kids' sleeping bag and even a wearable sleeping bag for adults!
4. Portable Crib
This is an optional item, depending on your toddler's sleeping habits. If your younger toddler is still sleeping in a crib, the Pack N Play can provide a safe and comfortable sleeping environment for the night. Personally, both my toddlers did not like sleeping in a portable crib while camping and we only used it when they were very young.
5. Sleeping Pad
Both my children began sleeping on a sleeping pad at 1. Do not use an air mattress for sleeping with young toddlers! This is a dangerous situation. Instead, opt for a thin sleeping pad for your little one. This is a safe sleeping option for toddlers that's also comfy for little ones. We use an adult size Thermarest for both our kids.
6. Extra Blankets
I always bring some extra blankets with us just in case someone gets cold. We also like to snuggle with cozy blankets around the campfire on cool evenings. It's also a good idea to bring some extra blankets in case someone gets sick in the night. Take it from experience, NOTHING is worse than throwing up in the tent at night! It's something I hope we never have to experience again, but now I know how important all those extra blankets are.
7. Your Child's Favorite Toys
Don't forget to pack that extra favorite stuffy for camping! Nothing can interrupt a great night's sleep camping, like forgetting that one favorite toy that your young child needs to sleep just as well as at home! There's nothing like the comforts of home to ensure a good night's sleep.
Camping Clothing for Toddlers
When camping with toddlers, remember to pack a few extra sets of clothing. Pack plenty of durable play clothes for camping to prepare for the messiness that is inevitable. I like to pack 2 extra sets of clothes just in case of emergencies, and believe me, sometimes we've needed both extra sets of clothes! If you are potty training your toddler while camping, consider bringing even more extra pants and underwear for the camping trip.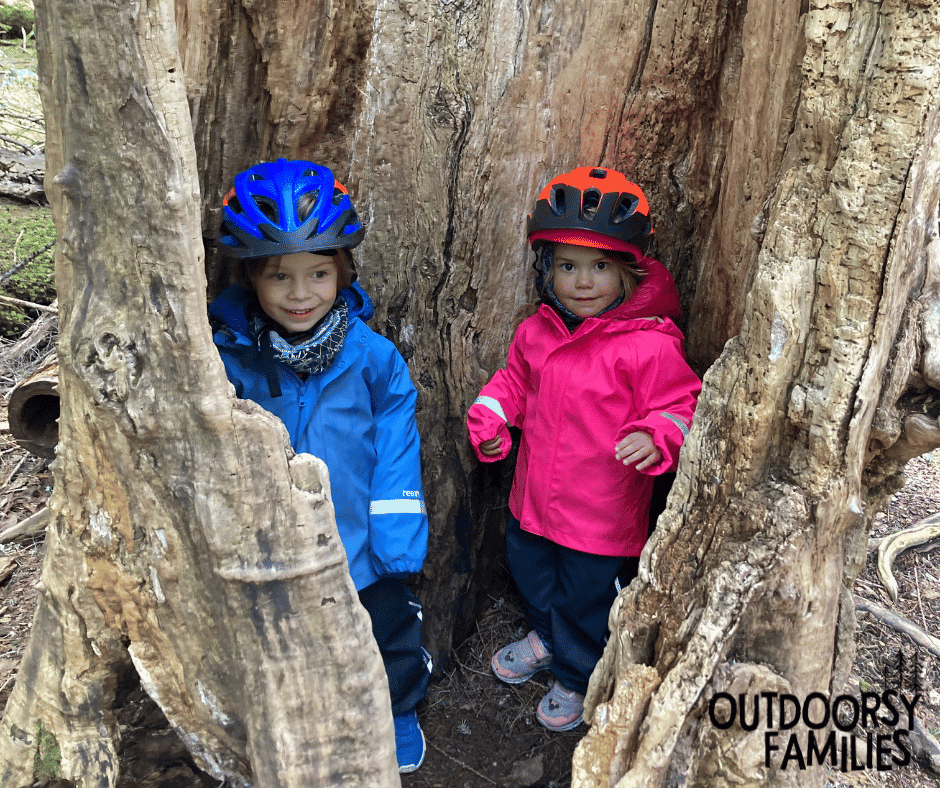 1. Reima Rain gear – GET 15% OFF YOUR PURCHASE WITH CODE OUTDOORSY15
Camping in the rain is not only doable, but can be a lot of fun! Be prepared for camping in the rain with Reima rain gear. We also love Reima's Puro rain mittens for spring camping adventures.
2. Merino Wool Base Layers for PJs
When we're camping, I try to avoid dressing my kids in cotton. Merino wool wicks moisture away and keeps kids warm and dry while sleeping in the tent. I also like to use these base layers on cold camping days to keep my kids warm as we explore.
My favorite merino wool base layers are from Reima. They also include silk and are oh, so soft! I also really like Wee Woolies base layers.
3. Puffy or Fleece Jacket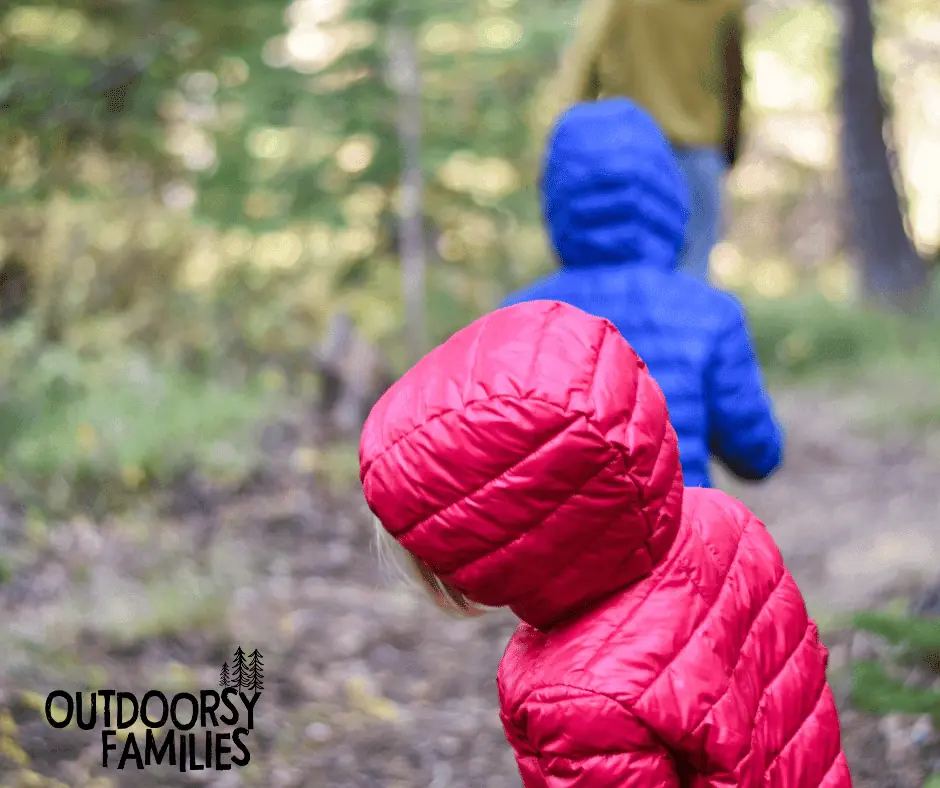 We live in Montana, and even in the summer, we have cool nights that require a fleece or puffy jacket. My favorite is Primary Puffer Jacket. This puffy jacket is a bit thicker and includes a hood, making it great for cool spring and fall days.
For older children or taller toddlers, choose the Shred Dog Element Insulator jacket. Use code OUTDOORSYFAMILIES to get 25% off your purchase! This lightweight, but insulating puffy jacket works well all year for layering and keeping kids cozy while playing hard outdoors.
4. Sun Hats
Choose a warm beanie or hat for sleeping. Wearing a hat at night prevents heat from escaping, keeping your toddler warm in all camping conditions.
During the day, opt for a hat that can protect your toddler from the sun. I like Sunday Afternoon hats. Their sun hats work well to keep the sun off your toddler's face, neck, and shoulders. Their trucker hats are an adorable choice for kids who refuse to wear sun hats (like my son!)
5. Durable Children's Play Clothing
Choose camping clothes that are comfortable and durable for plenty of messy play, hiking, and time outdoors. Check out First Peak Baby for some fantastic clothing options for active and playful toddlers.
6. Sturdy Shoes for Exploring
I prefer Merrill's durable, yet comfortable hiking shoes for lightweight shoes for exploring. These shoes have great grip, yet are flexible enough for toddler's growing feet.
Essential Eating Gear with Toddlers
Our family typically camps at National Parks and State Parks. These campgrounds include a picnic table for preparing and enjoying meals together. If you are camping in dispersed camping, you will need a foldable camp table and may want to consider trays for holding food. For this list, I am sharing what I bring for camping at a campground.
When choosing camp food for toddlers, choose easy camping meals. I like to precook the meat in many of our camping meals and just warm it up on the camp stove. Some of our favorite camping meals include chicken and cheese quesadillas, burgers, and spaghetti with pre-made sauce.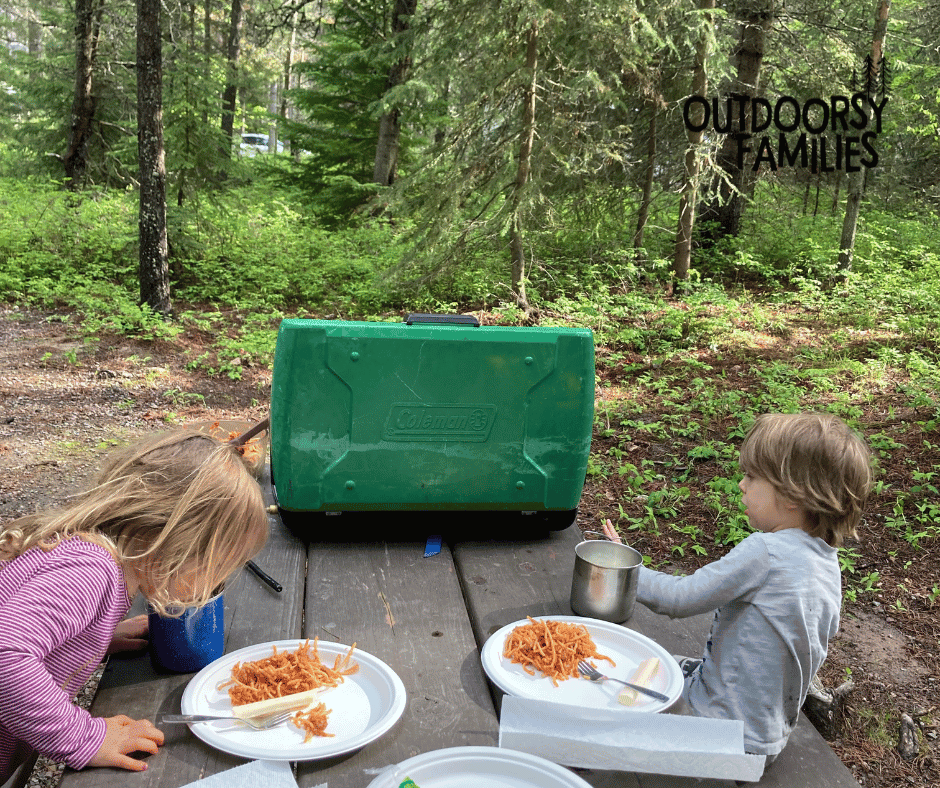 1. Portable high chair
We strapped a small, portable chair to the picnic table for our young toddlers. The removable tray made this chair suitable for feeding babies and young toddlers. It also worked well as a chair for sitting around the campfire. Be aware: this chair is tiny. This chair lasted until my son was 3 before he grew out of it. My daughter (who's tall for her age) needed a kid's size chair by the time she was 2.
2. Child's Size Dishes
Bring the comforts of home with you for your toddler to encourage them to eat while camping. Eating outside can distract young kids at times. I've found if I bring my children's dishes from home they are more willing to eat during mealtime.
3. Water bottles
Bring your kid's favorite water bottle on the camping trip. If you don't have one, this water bottle is a great option for older toddlers. Bonus: They can decorate it with stickers from all the campgrounds and parks they visit!
Younger toddlers should use their own sippy cups from home to keep things simple and routine for them.
Diapers and Potty Training while Camping with Toddlers
It may surprise you to hear this, but potty training while camping is easier than you'd think! When our son was potty training, we took him camping. We chose a dispersed camping site to give him more privacy to practice potty training, and by the end of the trip, he was good to go!
1. Diapers or Pull-Ups
We used cloth diapers for our babies. However, after one trip using cloth diapers while camping, I realized that there was a time and place for disposable diapers in our life, and that was camping! Bring more diapers than you will need, just in case. We usually did diaper changes in the tent to give us more privac
2. Baby Wipes
Baby wipes are so useful while camping – and not only for diaper changes! They're a must-have for camping with young toddlers who are still in diapers. But wet wipes also work well for wiping down dirty kids after a busy day of play. Many campgrounds don't have shower facilities, so cleaning up is trickier than at home.
3. Portable Potty
If your child is at potty training age, be sure to bring a small portable potty for your toddler to practice going to the potty. I've also found that many campgrounds throughout the West don't have flushing toilets. This is especially the case at National Forest campgrounds. Both my kids were terrified of pit toilets (I get it, they are pretty scary!) It's much easier to get my kiddos to use the small portable toilet instead of the frightening pit toilet.
4. XL Wet Bags
I store the portable potty in an XL wet bag. This makes walking to the toilet more discreet vs. carrying a portable toilet out in the open. I also store baby wipes, gloves, and a small amount of toilet paper in the wet bag.
5. Regular Size Wet Bags
Since we used cloth diapers for our babies, we have an entire collection of wet bags. They're very useful for storing potty accident clothing until you get home to wash them up. I've used these wet bags for a lot more than just cloth diapers now. I machine wash the wet bags to sanitize them for use after diapering and potty training. Some of these uses have been carrying toiletries that may leak, storing snacks in backpacks, storing wet swimwear, and even holding small toys.
Camping Gear for Fun
Don't forget to pack toys, games, and activities to make the camping experience even more fun! What you bring will depend a lot on where your family is camping. If you plan to camp at the beach or desert, don't forget to bring a shovel and bucket to dig in the sand and dirt. If your family is camping near a lake, bring floaties and life jackets for a fun time! Have a plan in case of rain and have some tent-friendly activities, such as crayons, board games, and small toys.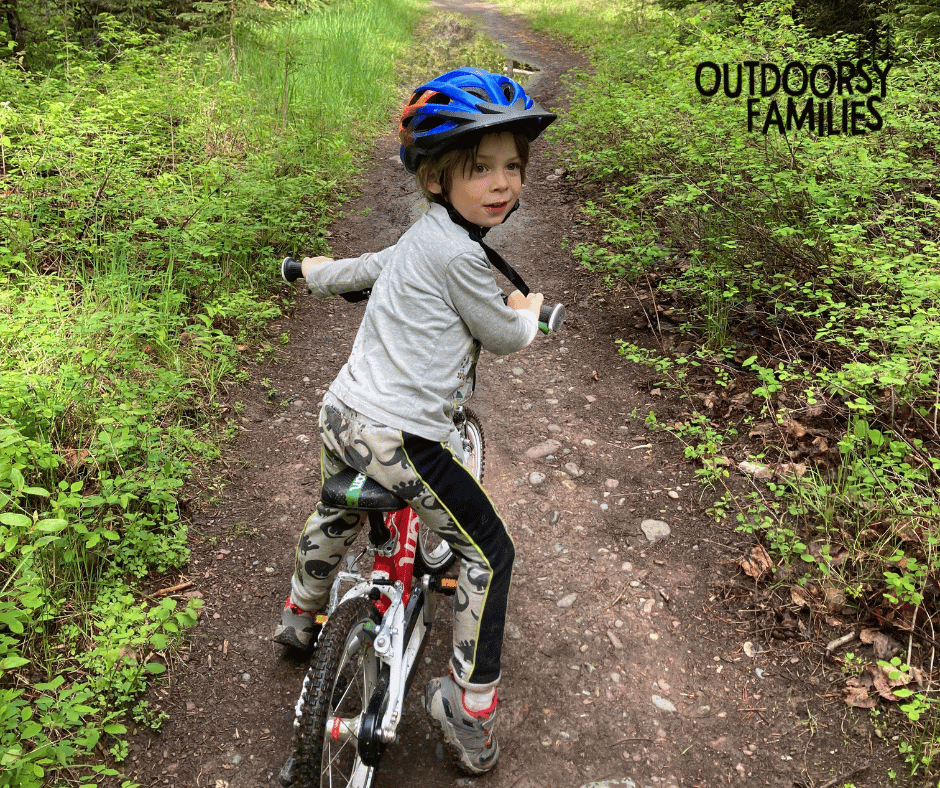 1. Balance Bikes or Pedal Bikes
One of our favorite activities at a campsite is going on a bike ride. This is a great way to burn off extra energy before trying bedtime at camp.
2. Portable Crib
When my kids were very young (around 1) we used the Pack N Play outside to let our babies play in a safe environment while we took care of camping chores. Put some of your little one's favorite toys in the Pack N Play for a safe play area.
3. Board Games and Card Games
Choose simple board games with just a few pieces for fun while playing at camp. We love these Peaceable Kingdom Games for young toddlers. My kids especially love Dinosaur Escape. They teach cooperative play and teamwork.
4. Marshmallow Roasters
What is a camping trip without s'mores? Use marshmallow roasters so you don't have to go searching for a stick!
Pro Tip: DO NOT cook s'mores after dinner! The sugar rush from the s'mores will make the bedtime routine CRAZY! Instead, choose one afternoon during your camping trip to cook s'mores.
Camping Essentials for Safety and Convenience
Camping removes your family from the comforts and safety of your home. However, that does not mean that you should not be prepared to keep your family safe! This list includes the important essentials to keep your toddlers safe and comfortable during your camping trip.
1. First Aid Kit
I like to pack a pre-made first aid kit that I carry with us on our hikes with kids. I also always stock our first aid kits with toddler-friendly pain relievers, allergy medication, and frozen bandaids. (A must for my daughter's injuries!)
2. Insect repellant
I know this may not always be a popular option, but I choose a low Deet insect repellent for my family. After talking with my kid's pediatrician in Minnesota, the risks for disease from insects was much higher than the risk of a low level of Deet. We also use picaridin-based bug spray.
3. Baby Safe Mineral Sunscreen
The best way to protect your young child's skin is to keep them covered. However, when we are in the sun, I choose mineral sunscreen for my kids. Aveeno Baby mineral sunscreen is easy to apply and doesn't feel sticky or leave a super white residue.
4. Inflatable Lanterns
These solar powered, lightweight lanterns are so convenient for camping! It illuminates our dark room tent well. We also use it for our night hikes and for sitting around the campfire in the evening.
5. Headlamps
Everyone in our family has their own headlamp. Toddlers with headlamps can be blinding, but my kids love to have their own headlamp. I chose one that can be pointed down to the ground to prevent my kids from accidentally blinding me or others.
Camping with Toddlers
Camping with toddlers may seem like hard work, but the work is worth the joy of sharing the camping experience with young children! Be sure not to forget any of these camping essentials on your next family camping trip.
More Camping Content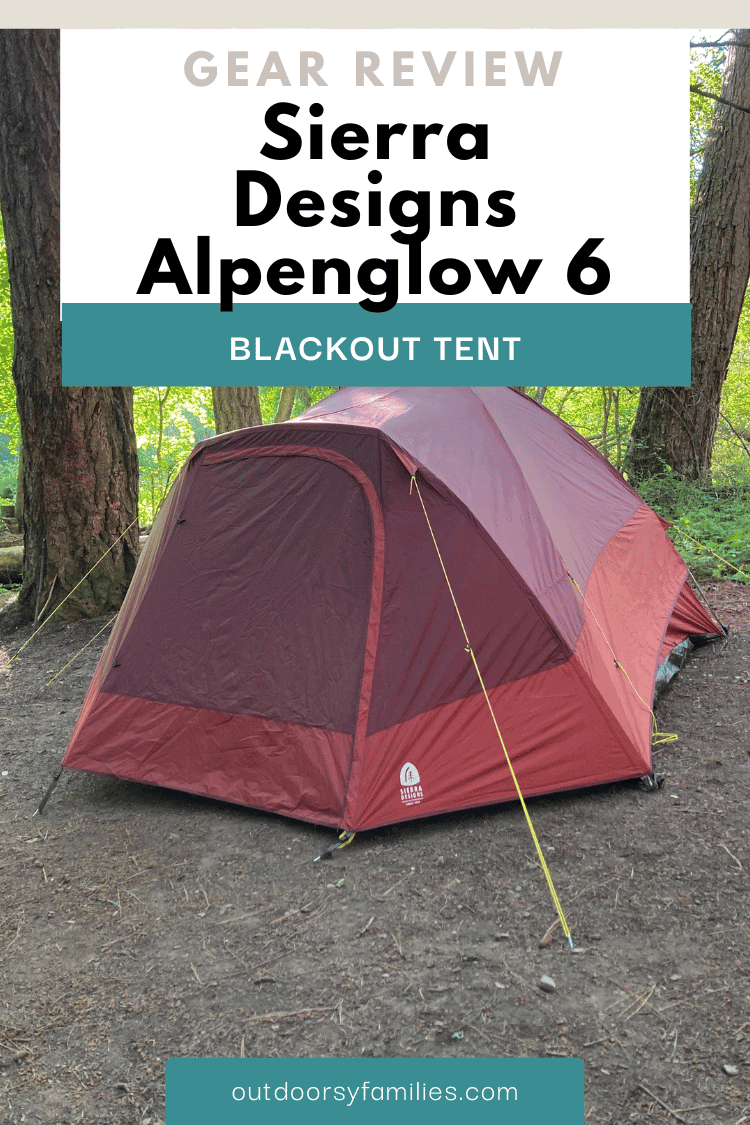 One of our biggest struggles camping with babies and little kids is keeping bedtime routines similar to those at home. This includes going to bed by 8:00 PM even while camping. We live in Northwest Montana where the sun doesn't set until nearly 10:00 PM. The sun is also rising by 5:00 AM! We needed…