Ski Sizes for Kids: The Complete Guide
What size skis do my kids need?
Choosing the right skis for your kid may be new territory for you. You may be ready to buy an amazing deal that just came up on Facebook Marketplace, but you don't know if those skis will be the right size for your child. Maybe you're researching the next perfect ski for your kid for the next ski season.
The right size skis for your kid will depend on several factors. As a general rule, the most important factors will be your skier's age and ability. You will want to keep both these factors in mind as you choose the correct ski size for your kid.
This post contains affiliate links, including links from Amazon. If you use these links to buy something we may earn a commission at no extra cost to you. Thanks for supporting our family!
Ski Sizes Chart for Kids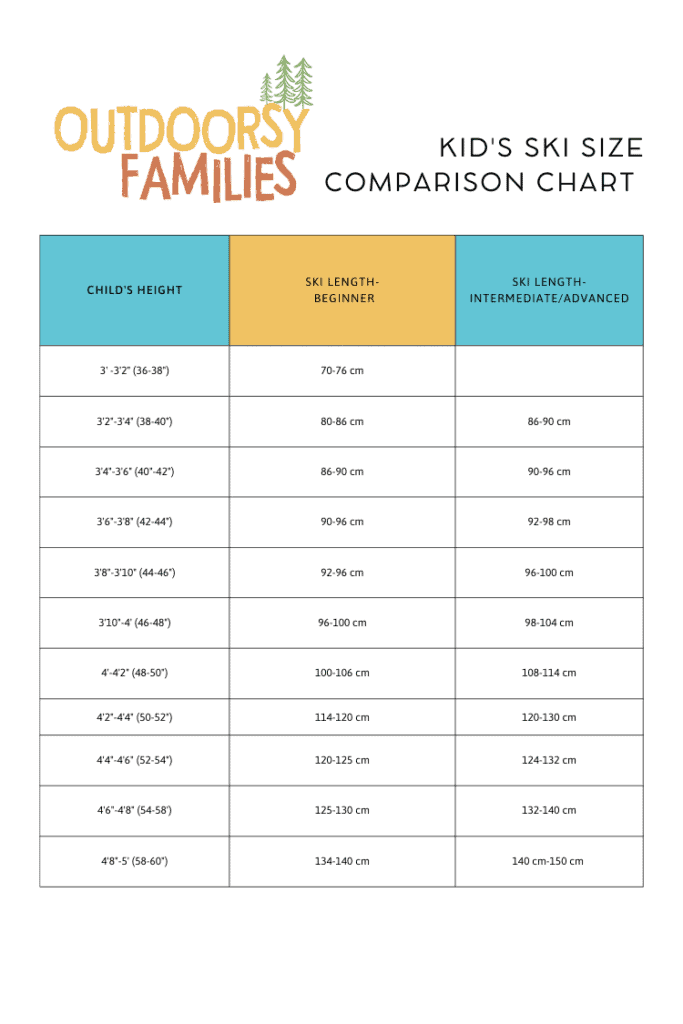 Ski Sizes for Toddlers
Most toddlers are just beginning to ski and will need the shortest size ski per height. I prefer choosing a ski between shoulder and chin height for small children. You may even consider choosing a ski as low as your child's chest. This size ski is typically between 67-80 cm.
Choosing a smaller ski for your toddler will be beneficial because:
Your toddler will be able to learn to control a shorter ski easier than a longer ski.
Your toddler will not have the extra weight that comes with longer skis
Toddlers are still developing gross motor skills and will be able to control the shorter ski more easily.
Ski Sizes for Young Kids
Young kids (between the ages of 4-7) will need a ski size between their shoulders and nose. This will vary based on your kid's skiing ability. If your it is your kid's first time skiing, choose a ski size closer to their shoulders or chin. If your child is skiing on intermediate terrain and can parallel ski consider choosing a longer ski that's closer to their nose.
When to know if your young kid is ready for the next size ski:
Your kid is skiing faster than the ski. This will look like they are being held back by the ski. They may also lurch forward a bit in front of the ski as they ski down the mountain.
Your kid is skiing more challenging terrain and the ski is slowing them down. 
Ski Sizes for Older Kids
If an older kid is a beginner skier, choose a ski that is between their chin and nose. If your older skier is already able to ski a variety of terrain you can leave the length of the ski (from chin to forehead) up to them. This will come down to your kid's terrain preferences. I'll cover more details about that below.
Ski Sizes for Terrain
For intermediate and advanced skiers, consider choosing your kid's ski size based on the terrain they enjoy skiing.
If your kid is skiing in the trees, choose a shorter ski that gives them more maneuverability to turn quickly in the woods.
If your child is ski racing, choose a longer ski that will help them ski faster.
If your kid is skiing in the park, choose a ski that is not too long to give them the ability to turn, jump, and slide easily.
If your kid is skiing primarily groomed runs you can choose a ski based on their preference. Some prefer longer skis for more speed, while other kids will prefer a shorter skis for more control.
Ski Sizes by Weight of Your Child
An average size child can choose the length of the skis based on the chart above. However, if the weight of the child is well below average, consider choosing a shorter ski. A shorter ski will be easier for your kid to maneuver. If your child is well above average weight, consider purchasing a taller ski. A long ski will give your kid more stability.
Types of Skis for Kids
There are as many variations of kids' skis as there are adult skis. These different types of skis serve different purposes, depending on your kid's interests.
Most inexperienced skiers will want a basic shape ski. Shape skis typically have a wider tip and tail than the middle portion of the ski. The part of the ski that is under your kid's foot will be the narrowest point on the ski.
More experienced skiers will have more options in what type of ski they are interested in. Advanced kids may want a ski based on different types of skiing.
Kids' skis can also include carving skis for racing. These skis are designed for speed and can feel stiffer than other skis. They also have a traditional camber. These stiffer skis allow racing skiers to ski at high speeds. Ski racers often choose longer skis vs. shorter skis.
Many kids learn to love skiing in the terrain park. Park skis typically feature twin tips, meaning both the front and back of the ski sticks up. These skis also often feature a flatter camber on the tip and tail.
For kids who love to ski in the powder, consider looking for a ski that is wider underfoot. These skis also feature reverse camber to help your kid float in the powder. These wider, bouncier skis will let your kid rip through powder stashes off groomed runs.
Most families will be interested in opting for an all-mountain ski. All-mountain skis feature the best of all ski types to create a ski that is functional in a variety of conditions and terrains. All-mountain skis often feature some early-rise camber. They are also often wider underfoot than beginner shape skis. They can work well in the trees and on groomed runs. The flexibility of an all-mountain ski is what makes them so great!

Skiing Graphics and Design
Of course kids (and some adults!) are tempted to choose skis based on the coolest graphics or the best design. Unfortunately, this should be the final factor to consider when choosing skis for your kids. The good news is that kids' skis come in all sorts of fun styles and designs. 
How many seasons will my kid's skis last?
Your kid will grow out of their skis long before they are worn out! Often kids will need a new pair of skis each season, just like they will need a new jacket or snow pants. This is why our family chooses to buy used skis for our young children, and resale the skis later. If you are looking for tips to save money on skiing, check out How to Save Money While Skiing
Children's skis recommendations
While I typically choose used skis for my kids, there are some advantages to buying new skis. First, you know the bindings are not damaged. If you purchase used skis always have the bindings tested by a ski shop to ensure they are safe for your child to use. Another advantage is a higher resale value vs. selling used skis.
These tiny Rossignol skis include premounted binding. They're an early-rise, all-mountain ski that will allow your tiniest skier to learn to turn with ease. Sizes available include 70-92cm. They also come in blue.
This Volkl ski, binding, and boot combination is a great deal for young skiers. With sizes from 80-120 cm, this Volkl ski is a great option for young kids. This all-mountain ski features a reverse camber and a short turning radius. That makes it easy for kids to learn to ski, while also progressing to blue runs and adventure trails.
This Atomic Bent Chetler ski will make your older kid look like the coolest kid on the mountain. Featuring a rocker/camber/rocker design, your kid will be floating through the powder and shredding the groomed runs. This deal also includes Rossignol boots and L 6 GW bindings. 
Choosing Skis Sizes for Kids
When choosing the correct ski size for your kid always consider their skiing skill level and height. This will ensure you choose the right ski for your kid. After choosing based on height and ability, you can choose based on terrain preferences and graphic design choices.
By following these tips, you can ensure that you are choosing the correct size skis for your kid.
Other Skiing with Kids Posts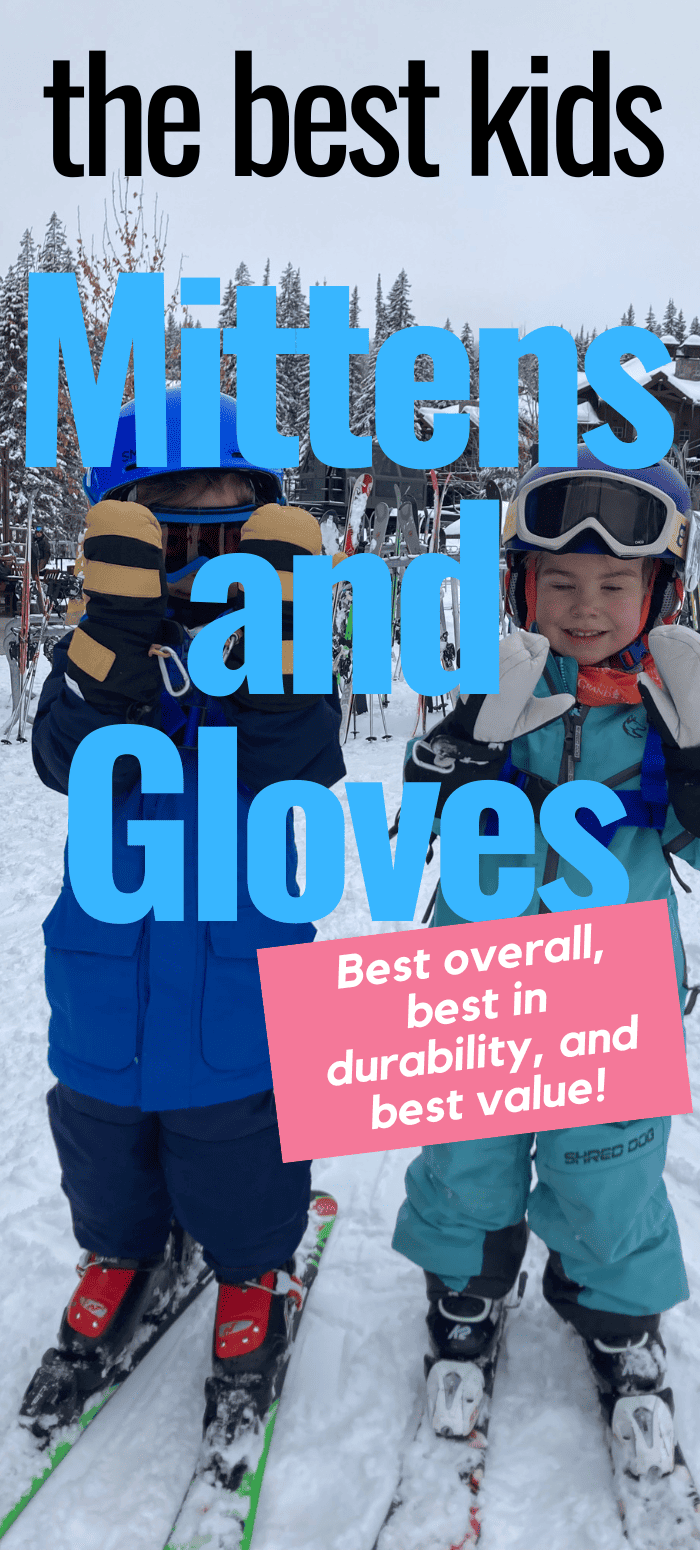 Choosing a pair of winter mittens or gloves for your kids doesn't need to be a struggle, but often it's more complicated than it seems. The mittens are too short and snow sneaks between a crack, or they're not nearly as waterproof as you thought are soaking wet within 15 minutes of playtime. The worst…