How to Teach Your Toddler to Ski
Before my husband and I had kids you could find us skiing every weekend (actually every day for my husband!) We knew that when we had kids we'd want to get them skiing as soon as they showed interest. No, we aren't trying to raise the next generation of Olympians.
We just love to ski and want to share that passion with our kids! At the age of one, our little toddlers got their first experience of sliding on the snow while riding on a snowboard between our legs. Our cautious son was three when he first tried skiing, while our daughter became a little ripper at two.
If you are considering taking your toddler skiing, know that the results are going to vary greatly depending on your toddler's interest level and gross motor skills. I also recommend that you as the parent be an experienced skier, capable of skiing safely and fully in control on your own. You as the parent need to be able to keep your child and yourself safe while you teach your toddler to ski. If you are both beginners then head right down to my last point – invest in ski lessons!
Get Good Ski Gear
Good gear is essential in making the ski day fun for everyone! Don't show up at your local resort with plastic slide-on skis. These skis are not going to cut it when it comes to teaching toddlers to ski. You will want to get skis with edges and bindings, as well as proper ski boots.
Ski gear doesn't have to be expensive though! Be sure to check out my article on ski gear on a budget for tips and tricks on where to find the best bargains. If you want even more ski gear bargains, sign up for my weekly newsletter where I do the searching for you, and find the best gear deals of the week!
Soft Gear for Toddlers
For baselayers, I like to choose polyester or wool. Either works well to keep your toddler warm and dry while on the ski hill. Some of our favorite baselayers include Reima wool baselayer. I'm also a sucker for patterns, so I love these Reima wool baselayers.
USE CODE OUTDOORSY15 FOR 15% OFF AT REIMA!
Other great baselayer options include Patagonia Capilene. I also really like Terrarmar for a budget polyester baselayer. They're my son's favorites!
I also like to layer my kids in a mid-weight layer. Typically this is a pair of fleece or polyester sweatpants and a fleece sweater. This year I bought my kids these matching crew sets from The North Face. They are very warm and work great for super cold days.
For outer layers on a budget, I haven't found anything as good as these Target snow pants and jackets. My kids typically get two years of daily play out of these bargain jackets and snow pants! I also love that the jacket has a removable wind-resistant fleece jacket.
If you are looking for snowsuits check out Reima's line of snowsuits. They are warm, insulated, and waterproof. Use the code OUTDOORSY15 to get a discount on your purchase!
My favorite winter mittens are Reima's Ote mittens. I also really like Jan and Jul mittens. Whatever you do – choose a mitten that goes past your toddler's wrist and includes two straps for keeping the mittens secured and snow out!
Hard Gear for Toddlers
If you are looking to buy skis for your toddler look for 70 cm-80 cm skis if your child is between 1 and 3. Ideally, the skis will be just below your toddler's chin. However, this size is tough to find! Visit your local ski swap, check Facebook Marketplace frequently, or consider renting from a local shop for the season. If you are not sure what size skis your toddler needs, be sure to check out my guide to ski sizes for kids.
Your toddler will definitely need a helmet when skiing. I've tried several different helmets for our kids, and my favorite is the Giro Crue Mips helmet. It has a secure fit, isn't too bulky and pairs nicely with the Giro Chico goggles.
One thing I suggest not purchasing is plastic skis that are meant more for playing in the backyard than actually skiing. Without a secure binding and ski boots, these skis won't work when downhill skiing. Another piece of equipment you won't need to worry about is ski poles. Toddlers and little kids don't need ski poles for a while. Typically, kids can start using ski poles when they are skiing parallel. Even if they are skiing parallel they may still prefer to ski without ski poles, and this is fine!
Try on Gear at Home
Ski boots take some getting used to – even for adults! For toddlers who are just mastering how to walk and run, ski boots can feel cumbersome and overwhelming. We let our toddlers get used to their ski boots by wearing them around the house.
Shuffling their feet with skis on can also be a challenge. Before you go to the resort, let your toddler try on their skis while on the carpet or rug in your house. If you have snow in your yard you can also let your toddler try walking with their skis on while playing in the snow.
Your toddler can also practice how to step into and out of the binding before ever getting to the mountain. Teach your toddler to line up their toe into the front of the binding. Next, they should look behind them to line up their heel with the binding before pushing down to lock their ski boots into place. Show them how they can reach behind their feet to push the binding down and release their feet. This takes a lot of practice! Our five-year-old began getting out of his bindings on his own at four years old, but still sometimes has trouble clicking into the bindings. If your toddler needs help, gently position their foot into the bindings and push down to lock their ski boot into place.
When you are at the ski hill you will want to remind your toddler to knock all the excess snow off their boots before lining the boot up with the bindings! Snow-packed boots make for a terrible combination with bindings and can result in the ski popping off!
Practicing at home is a great way to get your kids hyped about skiing, but is NOT necessary. It may make everyone's life a bit easier, but there are circumstances where this won't be an option. If you need to rent gear or if you are taking a vacation to a ski resort, don't dismay! You will certainly be able to get your toddler used to their gear on the hill. You may want to let them practice walking in their boots in the lodge or even while playing in the snow before you even bring them over to the beginner area.
Choose a Beginner-Friendly Ski Hill
Not all ski resorts are made for beginners! Check the ski resort's website for mountain stats if you are considering a ski vacation or if you are looking for the perfect local hill. Typically ski resorts will tell you the percentage of beginner terrain. You will also want to know if the ski resort has a magic carpet. Magic carpets aren't necessary, but they do make learning a lot easier when you and your toddler are only focused on skiing and not learning how to load a ski lift too! We have two ski hills near us and we chose to purchase season passes at the resort with the magic carpet.
Carry Your Toddler's Gear (and maybe your toddler too!)
Want to know a quick way to ruin your toddler's ski day? Make them carry their gear while also trying to figure out how to walk in ski boots! Seriously, you will be in for a doozy of a toddler tantrum if you expect them to take on more than they can handle too quickly.
I carry my toddlers' skis from the car to the lodge and from the lodge to the magic carpet or chairlift. There were also times last year when I needed to carry my 2-year-old as well!
There are a few good ways to schlep all that gear and kids to the lodge.
Strap the skis to your backpack and use the Trail Magik to carry your toddler to the lodge
Bring a sled with you! Put the toddlers in the sled with their skis across their laps and pull everyone and everything across the parking lot.
Park in the unloading zone and drop off everyone's skis. Then, park in your parking spot, and everyone walks to the lodge (or you still use the Trail Magik or carrier for the toddler!)
Once you're at the lodge encourage your toddler to walk to the magic carpet while you carry the gear. The magic carpet at our local mountain is actually up a hill about 200 feet from the lodge. There have been plenty of times when I ran the skis up to the magic carpet and then ran back down to carry my two-year-old!
Use a Helper Tool
We use two teaching tools to help our toddlers learn to ski. The first is a ski tip clamp. The most popular one is the edgie wedgie, but we use a homemade design! The purpose of this helper is to keep your toddler's ski tips together while they learn to slide. This helps them control their parallel and wedge skis. 
If you are interested in learning the best ski tools for toddlers, be sure to check out this guide!
Once your toddler can go from skiing parallel to making their wedge (pizza to French fries) you should take off the helper.
The other teaching tool we use is the Slope Ropes. We do not use a harness for teaching our kids to ski! It forces their upper body to lean back in an incorrect skiing position. This position teaches bad habits that are challenging to reverse. When skiing you do not want your upper body leaning backward.
Instead of teaching our toddlers the wrong way to ski, we use a teaching tool that works with their body to put them in the correct skiing position from the get-go. The Slope Ropes is a rope with two plastic sticks. One side is for the parent to hold. The other side goes around your toddler's waist. This simple device pulls the toddler's hips slightly back while keeping their upper body straight.
Bonus: It also works well to tow your kids around the mountain! Have them hold on like they're holding reins and you skate in front of them while pulling your toddler or kid through flat areas. Heck, you could even use one to help a snowboarding buddy out! The Slope Ropes is easily stowed in your coat when you're on the lift, or when you're giving your toddler the freedom to practice independently.
Teach Your Kids to Stop First
The most important thing to teach your toddler to ski is to teach them how to stop. Toddlers tend to pick up the forward motion part of skiing pretty quickly. Point their skis down the hill and suddenly they're careening down the hill, giggling as they go. Sure, this seems fun, but it is not safe. All skiers need to be able to safely control their speed while on the mountain. Even toddlers.
You first want to teach your toddler to stop using a wedge stop, or the "pizza" stop. As your toddler is sliding down the hill help them bring the front of their skis together while the back of their skis stays apart. This creates a wedge shape with your toddler's skis. In this shape, they can slow down or stop.
One way we taught our toddlers to learn how to make a wedge was by skiing with them between our legs and demonstrating how to make the wedge with our own skis and their skis. Another technique is to use a ski pole with your toddler next to you while practicing creating the wedge. Once they get the hang of how to make their pizza you can use the slope ropes and let them have more space to practice. You will still have a backup plan if they begin to pick up speed.
A note on teaching toddlers to stop: Gross motor skills and muscles are still developing with toddlers. Your toddler may not be physically able to stop on their own yet. Be sure that YOU can safely stop your toddler at all times! The Slope Ropes work great for this, as does holding a pole in front of you while you and your toddler ski side by side.
Don't Forget to Play
The most important part of the skiing experience with your toddler is to have fun! Toddlers are usually good to ski one to three runs before it's time to take a break. Unstrap those bindings and play in the snow! A great place to do this is near the lodge, off the slopes.
Have a snowball fight in the snow, eat a snow snack (our toddler's favorite activity!), and make snow angels. Just be sure that the ski day is as full of play as it is learning!
Practice, Practice, Practice
With anything, the more your toddler practices, the better they will get at skiing. Teaching your toddler to ski takes a lot of practice! This doesn't mean all the practice should be happening on the same day. (See above!)
Rather, if you are near a ski resort make skiing a regular family activity. Often resorts have discounted or free tickets for the learner terrain, making it much more affordable for kids to practice skiing. Resorts also often have free or discounted season passes for young children as well. Our local mountain has free season passes for children 6 and under.
If you are vacationing at a ski resort try to get your kids out on the mountain for small sessions each day of your vacation. They don't need to be skiing all day to benefit from some practice.
Loading the Chair Lifts
One of the most daunting parts of teaching a toddler to ski is loading the ski lift! As you and your toddler approach the lift let the lift operators (lifties) know that you have a new skier who needs the lift slowed down. Help your toddler approach the lift by gently guiding them forward with your hand on their back. Once you and your toddler are at the loading line help them on by lifting them up under their armpits. Slide your toddler all the way back on the chairlift and lower the bar. Encourage your toddler to sit back and still while on the lift. This is a great time to give your toddler a snack or look at other skiers and search for animals. 
If you are looking for an easier way to load the chair lift with your little skier, consider using a ski harness as a way to lift your child. I recommend one that is just a harness – no straps or backpack!
When you are approaching the top of the lift signal to the liftie to slow down the chairlift by giving them a thumbs-down motion. As you come into the chairlift terminal scoot your toddler forward, holding onto them at their armpits as you both slide off the lift. Toddlers tend to get spaghetti legs at this point and lean all their body weight on you. Encourage your toddler to keep their legs strong as you glide down the ramp together.
Until your toddler is tall enough to load the lift on their own continue to help them up on the lift. After a while, you will get into a good routine with loading the lift and you may not need the chairlift slowed while you load.
Rest in the Lodge (or car!)
Skiing is hard work! Especially for little bodies. To keep energy and stoke levels high be sure you give your toddler some rest and snack breaks. Hot chocolate is always a popular ski day treat for our kids. We also bring some activities for our kids to do while hanging out in the lodge. Crayons, markers, paper, small toys, and a favorite stuffed animal are always popular.
While our kids are resting my husband and I will take turns getting some adult laps in!
Invest in Ski Lessons
There are times when you may want to have a professional ski instructor teach your toddler to ski. Many ski resorts begin offering ski lessons for toddlers between the ages of 3 and 4. Sometimes 3-year-old lessons are only offered as private lessons. Often a private lesson can teach skills quickly to young children and may be worth the extra investment. Most resorts offer group lessons for 4-year-olds. 
If you are not a confident skier, just skip trying to teach your own kids and go straight to ski school! You and your toddler will both have a more positive experience learning to ski with an experienced instructor. 
If your toddler is struggling with something and you are not able to help them progress then it's time to try a lesson. We did this with our son last season. He DID NOT want to take off his edgie wedgie and we could not convince him that he could ski without it. So we put him in lessons for an afternoon and told the instructor that we wanted it off. By the end of the day, he wasn't using his edgie wedgie and never had it on again!
Another reason you may consider lessons is if you and your partner want to get some fun turns on your own. Yes, the family experience of skiing together is awesome. But you're not exactly getting fresh powder through the trees or ripping corduroy at top speed. After weeks and weeks of skiing on the greens, you may just be ready for an adult ski day. Go ahead and treat yourself! Get your kids a lesson and you go rip.
Teach Your Toddler to Ski
Teaching your toddler to ski does not need to be challenging. With the right perspective, teaching your toddler to ski can be a fun and rewarding experience for your whole family. Before you know it, you will have a little ripper shredding the mountain with you!
Ready for more ski day advice? Sign up for our free family ski day guide!
Want more skiing tips and tricks?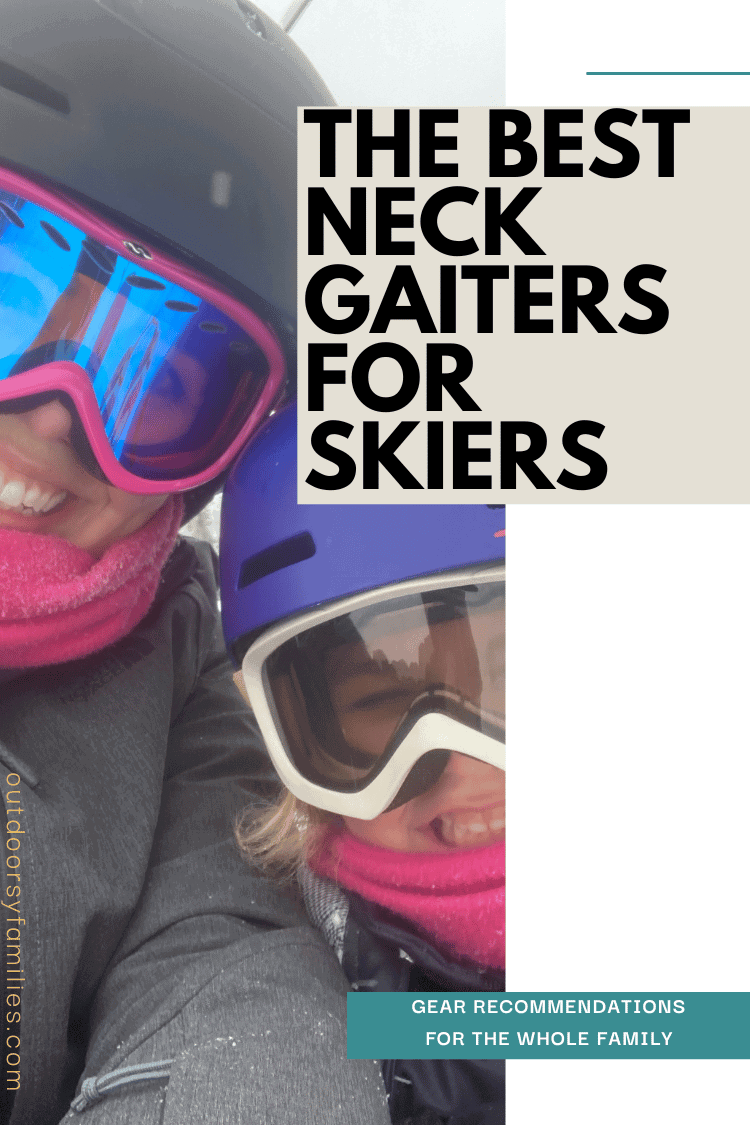 Staying warm on a cold ski day is essential to keep the whole family happy. We know the importance of quality ski helmets and outer gear. But, sometimes we can forget about a critical part of exposed skin. Our faces and necks! This guide shares the best neck gaiters and balaclavas for your whole family. From adults…