I have been camping with my kids since they were babies. When I first began camping with my babies my husband joined me on all our camping adventures. After he took a job as a summer camp director, our opportunities to camp together went down quickly!
Now I spend most of my camping trips on my own with my two young kids in the Montana woods and mountains. Last summer we camped 21 days together and this summer will be just as full of camping adventures. 
One major downside to camping on my own with two young children is that once they are asleep I am pretty much stuck at camp. I typically get ready for bed with them and go to sleep at the same time they do on camping trips. Sometimes I'd like to sit by the campfire, drink a cup of tea, then go to the bathroom and wash up before turning in.
However, I've always been hesitant to do this because I do not want to leave my sleeping kids alone at camp while I run to the bathroom. Typically my camping nights include reading a bit on my Kindle while snuggling with my kids. This is fine! But, there is something wonderful about sitting under the stars with a crackling campfire and enjoying the peace of the campsite on my own. (If you're looking for ideas for a good camping bedtime routine, check out this post!)
I'll admit, I haven't thought about a solution to my problem until Roar Outdoors sent me the Roar Baby Monitor! Roar Baby Monitors is a small business designed to fill this specific issue in the outdoor space. Creator Austin De La Cruz was tired of not having a safe and durable baby monitor for his family's camping trips.
Why bring a baby monitor camping?
I've shared why I needed a baby monitor before I even realized it, but there are so many advantages to having a baby monitor while camping.
It gives you freedom at the campground (even if you're just going to the bathroom!)
It provides peace of mind while you're enjoying your evenings at camp
With two-way talking, this baby monitor works well as a walkie-talkie for your group!
Choosing a battery-powered baby monitor allows you to not worry about electric hookups at campsites
Roar Baby Monitors provide the freedom parents are looking for when looking for a baby monitor for camping. Not are both units battery-powered, but with 1,000 feet of transmission range, parents will be able to enjoy the camping experience while their little ones are tucked in tight.
Roar Baby Monitor Features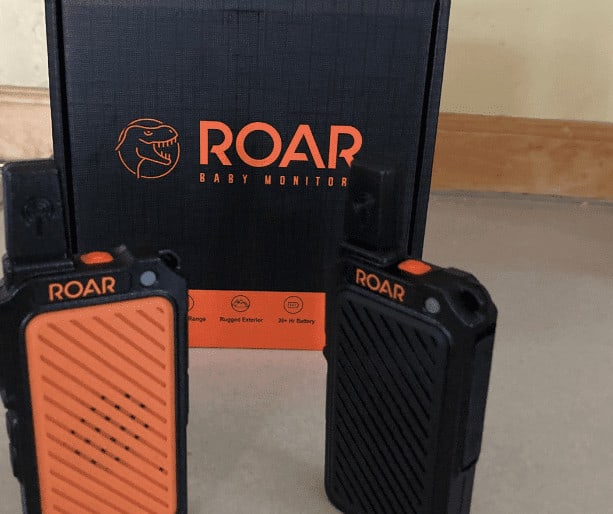 Design
Roar Baby Monitors feature a rugged, water-resistant design that can withstand outdoor elements. They look similar to many walkie-talkies. (My kids were ecstatic to see their new "walkie-talkies.") The parent unit is black and the baby unit is orange. The different color is the main way for me to differentiate between the two units. An attachable clip is available and the hardware is included in the packaging. There is also the option to attach a strap, but I could not get it through the small hole on either unit (I tried multiple times too!). This simple design is an audio-only baby monitor. Both units include a long-range antenna and PTT (push to talk) button.
The slim design is comfortable to clip onto the pocket of my pants or slide into my back pocket.
The lightweight unit doesn't feel uncomfortable when attached.
Range
The best feature of these baby monitors is their long range. With a 1,000-foot range, the Roar Baby Monitor can transmit a signal for a farther distance than many indoor units. These baby monitors do not depend on WiFi, but rather use an electromagnetic field to transmit the signal. This allows for a longer range than many at-home video baby monitors.
We brought the Roar Baby Monitor to Hawaii with us to test them out. We were staying in a house with a beach across the street. While testing the unit, we crossed the street and walked to the beach. The unit continued to work while we explored the oceanfront. When out of range, the parent device beeped to let me know that I needed to get back into range.
Battery Life and Charging
Rechargeable batteries are easily charged with a USB- charging cord. Both units can be charged simultaneously, or they can be charged separately. The USB charge makes it simple to charge the units while camping by charging them in the car or with a portable charger.
During our test, we left both units on to see how long they would last on one charge. I'm not sure how long it took before the battery died, but both units lasted into the second day of charge (well over 24 hours) before dying. This was also with the kids playing with them as walkie-talkies during the day.
We charged the units one afternoon and they were at full charge and ready by bedtime when we unplugged them again to continue our test.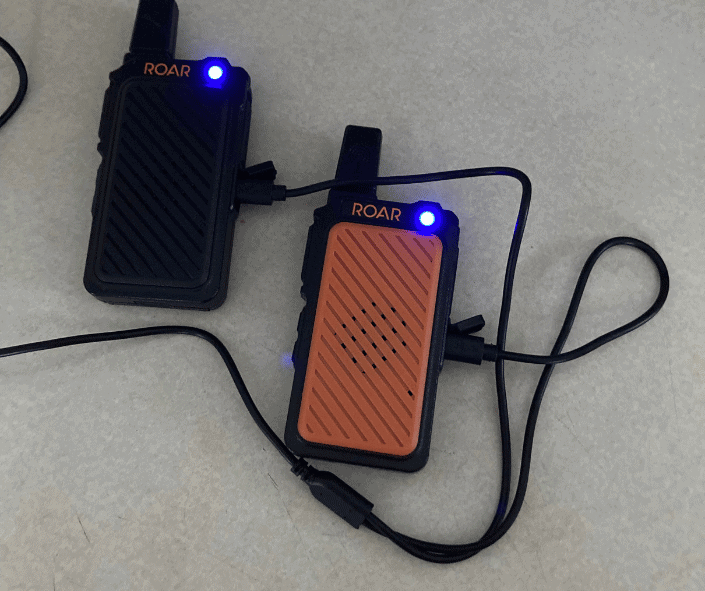 Audio Quality
Audio quality is clear with these units. My kids sleep with white noise and I could hear them over the sound of their white noise at night. I've had other units that muffle the audio to the point where it was difficult to hear my kids over that background noise.
The PTT button also makes it easy to communicate between the parent unit and the child unit. There is also a headphone jack that can help with audio if parents are in a louder area.
Durability
These outdoor baby monitors are designed to be drop-proof. My kids did (unintentionally) drop them without breaking the unit. They also got sand on the units. The sand did not affect the audio quality.
The units are also water resistant. They should be able to withstand a typical rain shower while camping. They are not waterproof and should not be submerged in water.
Using the Roar Baby Monitor
To turn on the baby monitors, place both units near each other and push the orange button on the top of the units. I found it easiest to get the units to pair together by keeping them close to each other while pairing. Once the units are paired the baby unit will have a red light to indicate it's paired. The parent unit will have a green indicator light.
Once paired, you can be assured that you will hear your baby up to 1,000 feet from where they are sleeping. If you go out of range or if the unit's battery runs low the unit will beep. If the battery is running low the light on the unit will change to a flashing red light.
If you need to speak to your child over the parent unit, simply press the PTT button and speak into the unit.
Communication is easy over the baby monitors. My kids were so excited about these "walkie talkies" that they have used them for this purpose more than their intended use! My son uses the parent device (black) and pushes the PTT button to talk with my daughter. My daughter is able to speak into the child unit (orange) without pushing the PTT button. They have played with them outside, trying to go farther apart to see how far they can continue talking together.
As my kids become older kids, I see us using our Roar Baby Monitor as a walkie-talkie around camp. I can envision letting my son bike with the child unit and calling him back to camp for dinner. I can see myself using it to go across the campground and get water for cooking or buy more firewood from the campground host as my kids stay at camp. I think these baby monitors will be useful beyond just a baby monitor!
What Makes the Roar Baby Monitor Different from Other Baby Monitors?
The Roar Baby Monitor is the first baby monitor designed exclusively for outdoor use.
The rechargeable lithium batteries make charging simple on the go with a USB charger.
The long battery life ensures that these baby monitors can be used throughout a weekend of camping. I recommend turning the units when you're with your baby to make sure the units stay charged for the duration of your trip.
A durable and water-resistant design makes it tough enough for outdoor use
Roar Baby Monitors
Roar Baby Monitors will certainly change my camping experience this summer. The long battery life, 1,000-foot range, ease of use, and rugged design makes it the perfect baby monitor for my summer camping trips. I'm looking forward to having the freedom to take back my evenings while camping solo with my kids. As I camp with these units I'll update this post.
Looking for more camping tips and gear?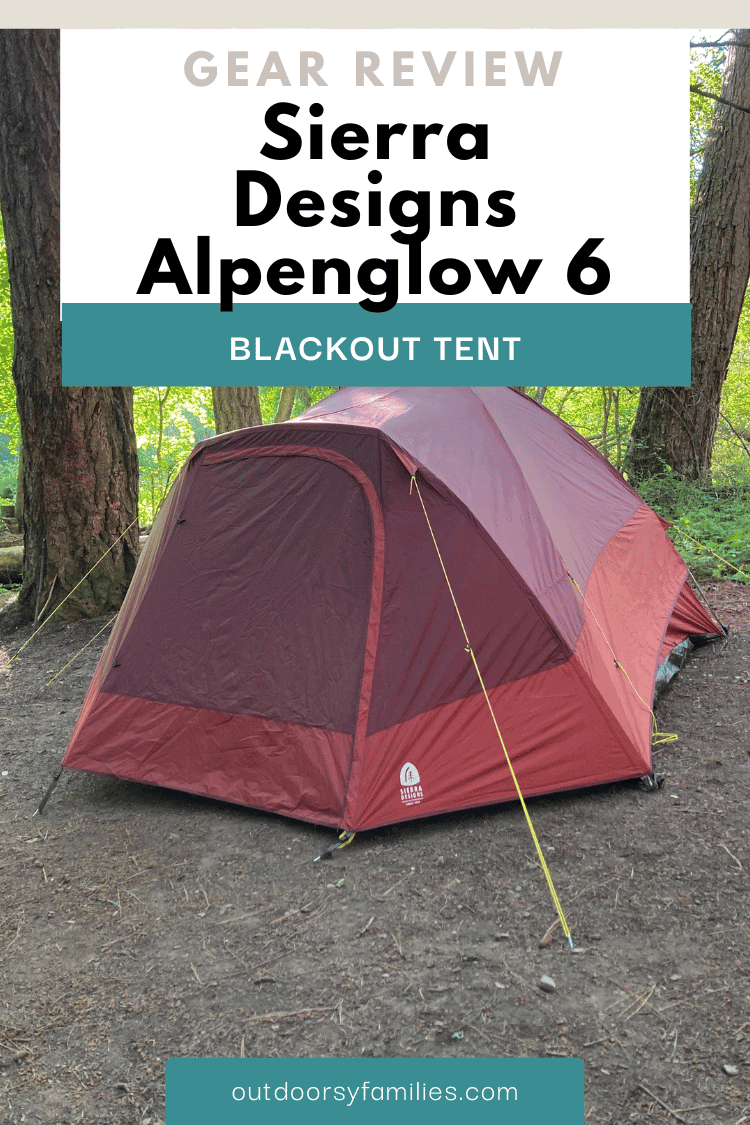 One of our biggest struggles camping with babies and little kids is keeping bedtime routines similar to those at home. This includes going to bed by 8:00 PM even while camping. We live in Northwest Montana where the sun doesn't set until nearly 10:00 PM. The sun is also rising by 5:00 AM! We needed…