Fall Outdoor Activities for Families
With mild temperatures and beautiful colors, fall is the perfect time to get outside with your family. From going on a leaf hunt to taking a fall canoe trip, there are so many opportunities for families to get outside in the fall! Here's a list of fall outdoor activities to get your family on your next fall adventure.
This post contains affiliate links, including links from Amazon. If you use these links to buy something we may earn a commission at no extra cost to you. Thanks for supporting our family!
Mild Fall Outdoor Activities
If you're in the mood for quintessential fall activities, then look no further than this list of mild outdoor activities. These activities won't get your heart pumping. But, they're sure to make you feel warm and fuzzy inside from all the fall memories your family will be making!
Go to a pumpkin patch. Nothing says fall like visiting a local pumpkin patch for the perfect pumpkin to carve.
Take a hayride. Going on a hayride will get the whole family in the fall spirit! On a hayride, your family will climb on a trailer with hay bales. Most trailers are pulled by tractors, and typically they go through a wooded area or open fields.
Have a campfire and roast s'mores. Campfires and cool weather go together like peanut butter and jelly! Nothing is better than staying warm by the fire on a cool evening. Add in a delicious s'more, and you have the recipe for the perfect fall evening.
Go to the farmer's market. The fall is a great time of year to get local produce from the farmer's market. One of my favorite fall vegetables is acorn squash!
Go apple picking. Apple picking is synonymous with fall. Once you pick your apples you can use some for baking (of course!). But leave a few for a fall hike, too!
Outside Apple Painting. Set up a painting area outside. We use this small picnic table Take a few apples and slice them in half. Use a fork to create a paintbrush. Let kids press the apples in paint and then press the painted apples on paper.
Have an outdoor picnic at a park. Enjoy a picnic outside under the fall leaves.
Paint Mini Pumpkins. Use the same setup for apple painting, but bring your paintbrushes and paint your mini pumpkins outside! We especially like painting pumpkins for younger children, who can't carve pumpkins
Carve Pumpkins. Pumpkin carving is a tradition that so many families like to do together.
Roast Pumpkin seeds over the fire. Take your pumpkin seeds from your pumpkins and wash them in the sink. I like to take 1 tbsp of salt and soak them in 2 cups of warm water for 15-30 minutes. After soaking your pumpkin seeds place them in a greased cast iron on a grill above your campfire. Carefully stir the pumpkin seeds until golden brown. I like the top mine with a little salt and paprika.
Go Fishing. Fishing is a great activity in the fall. You may need to use a boat to get to deeper water as the fish move with cooler water temperatures.
Bring a hammock to a park. Relaxing in a hammock while you read books is one of our favorite activities. If your young child is no longer napping this is a great way to take a quiet time outside.
Bird watching. Look for migratory birds by bringing a blanket outside and looking at the sky.
Go on a leaf hunt. Collect leaves and bring them home. There are so many crafts you can create with leaves and you can also study them!
Create a leaf garland. Practice fine motor skills by lacing fall leaves on a piece of yarn. Decorate your home with your creations!
Do a leaf scavenger hunt. Hide a few larger objects in a leaf pile. Let your kids the objects hidden in the leaf pile!
Take a drive. Driving along a leaf-covered road is one of the most fun ways to experience fall colors. Bring a picnic to complete the outing!
Play at the park. I personally recommend this being at least a weekly activity! What better way to enjoy a beautiful fall day than by playing at the park!
Wild Fall Outdoor Activities
Are you ready to take your fall adventures to the next level? Consider choosing a fall outdoor activity that's big on adrenaline, and outdoor fun, and will get your blood flowing!
Take a fall leaf hike. One of the best ways to check out fall foliage is to get out on a hike. Take a hike at peak colors and soak in the best of the fall season. Are you still uncomfortable hiking as a family? Be sure to sign up for your free Hiking with Kids Guide!
Go biking in the cool weather. The fall is the perfect season to get outside and bike as a family. Be sure to bring extra layers for your fall bike ride!
Canoe on a lake. Choose a calm day to canoe on a local lake. Always remember to bring your lifejacket! Seeing fall colors from the lake is a beautiful way to experience the fall.
Go camping. Going camping in the fall can be a chilly experience. But, with the correct preparations, it can also be an amazing family experience. Bring extra blankets, plenty of warm layers, and firewood to make the most out of camping in cool temperatures!
Go snow hunting! One of our family's traditions is to go up to the mountains after and during the first snowfall. Typically higher elevations can begin to receive snowfall as early as September. When this happens, we pack up the winter gear and drive up to the snow to hike and play. This is a great way to get us excited for ski season and to play in our favorite weather!
Hike to Natural Hot Springs. The best time of year to visit natural hot springs is during the fall. The cool temperatures and lower runoff allow for prime hot springs soaking! If you're looking for hot springs near you check out Hot Springs Guy's map of hot springs across the United States.
Fall Outdoor Essentials
Does rainy weather have your family down? I love Reima's line of outdoor kids' gear for getting our family outside, even in the wettest of weather! The Tihku rain suit is a two-piece suit that will keep your kids dry in any puddle stomping! At about $60 it's one of the more affordable two-piece rain suits for kids. I also LOVE Reima's Puro rain mittens. We have had our rain mittens for 2 years now, and they're still going strong. Use the code OUTDOORSY15 for 15% off your Reima purchase!
If you're looking for a lightweight puffer jacket, check out Primary's puffer jacket. It's made of 100% recycled polyester and has over 2,000 five-star ratings! We sized up last year and our puffers are still going strong this year.
If you are considering camping this fall, I recommend you get the Sierra Designs Alpenglow 6. This tent blocks 98% of light, which makes it a great choice for summer camping. But, I love the large rainfly and vestibule for fall camping. It also features an E-port, which allows you to bring a small electric space heater with you for fall camping. If you're camping with an electric space heater, be sure to choose one that auto-turns off when tipped. Also, never keep the heater on when unsupervised, and keep all flammable bedding away from the heater!
Fall Outdoor Activities
This fall, consider a combination of mild, easygoing fall activities and more adventurous fall activities. What's on your family's fall bucket list?
Looking for more outdoor fun?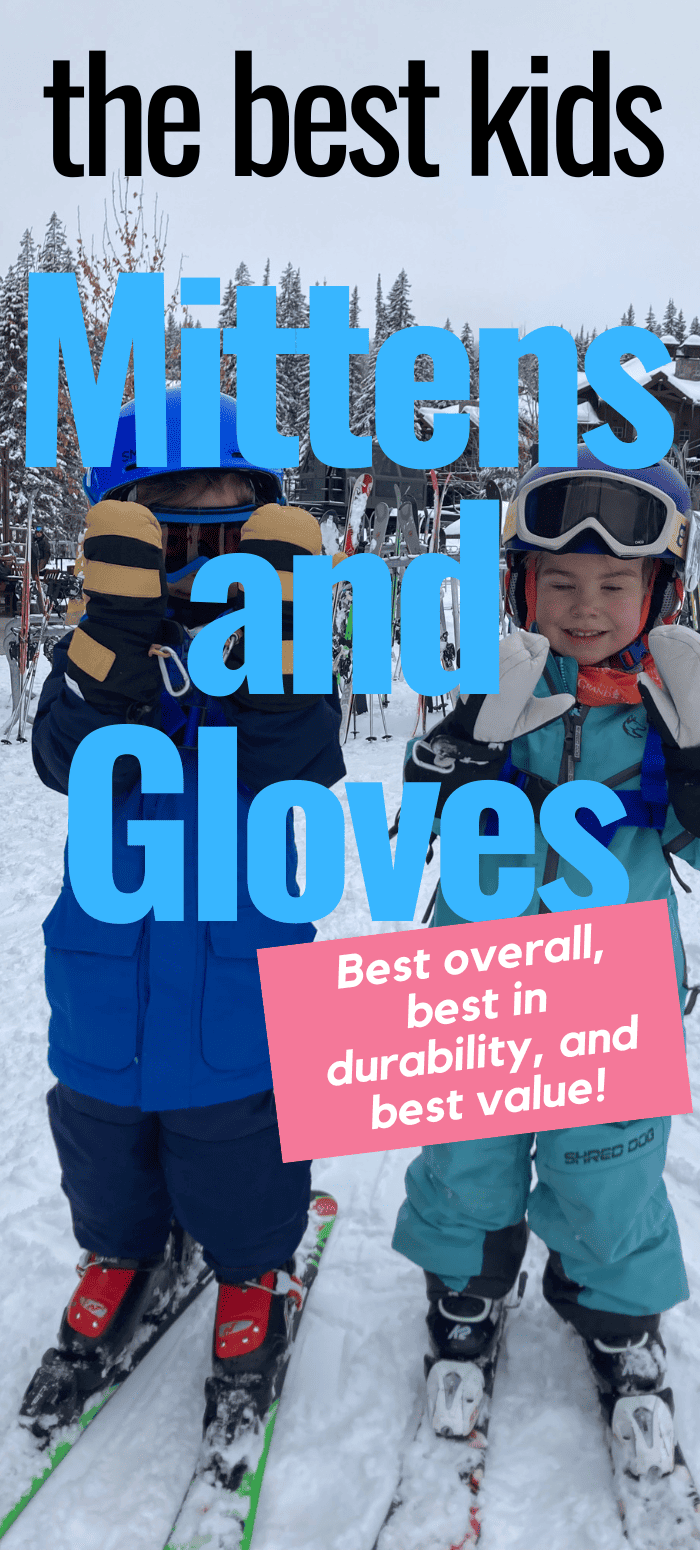 Choosing a pair of winter mittens or gloves for your kids doesn't need to be a struggle, but often it's more complicated than it seems. The mittens are too short and snow sneaks between a crack, or they're not nearly as waterproof as you thought are soaking wet within 15 minutes of playtime. The worst…